Why a Directory Website is the Perfect Side Hustle
Published on September 1, 2021
We get it. Not every entrepreneur is ready to quit their job and immediately jump into a new business with both feet. Maybe you're not ready to make a full-time commitment. Or maybe you're happy with your current job and you're just looking for something you can do on the side, during your free time, to earn some extra cash. No matter what your current situation is, starting a side hustle can be a great way to earn some extra money to help you achieve your financial goals faster - whether it's paying off debt, purchasing a home or saving for retirement.

So what's the best side hustle to start?

There are plenty of business opportunities out there, from delivering food and ride-sharing, to walking dogs and tutoring. Each has its own set of advantages and disadvantages. But perhaps the best side hustle of all is to start a local business directory for your town or city.

If you're thinking about starting a side hustle, here are 3 reasons why starting your own directory website with Ideal Directories might be your best bet:
1. It's inexpensive to start
Chances are, no matter what business you start, it's going to require some sort of financial investment. Even if you deliver pizza, you'll need to own a car, have insurance and pay for gas. You need to be comfortable with the fact that in order to be a successful entrepreneur, sometimes you need to spend money to make money.  However, that doesn't mean you need to invest a lot to get your business off the ground.

With Ideal Directories, anyone can launch their own online business directory and coupon website for less than $1,000. In fact, Ideal Directories gives you everything you need for just one, low monthly fee, making it one of the most affordable business opportunities available. Click here to view our current plans and pricing.
2. You can do it part-time
If you're starting a side hustle, that means you're not ready to invest full-time hours into your business. That's OK. Unlike other side hustles that might require you to punch in or commit to a minimum amount of hours each week, you can easily run a business directory website part-time, after-hours or on the weekends. It doesn't require you to show up at an office or physical location or be at a specific place at any given time. You can make your own schedule, set your own hours and even work from home.

The great thing about running an online business directory website is you're ultimately in control of how much time and effort you want to invest into growing your business. Once you have your site up and running, there's practically no maintenance other than selling listings on your site. Just looking to earn a few extra bucks? You might only spend a couple hours per month. Looking to cover your mortgage payment? You might dedicate the weekends to selling listings. Ready to earn a significant income? You might spend all of your free time growing your business.

Another advantage of running a directory website is that it won't interfere with your other full-time commitments. When your 9-to-5 demands more hours or life throws you an unexpected curve ball, there's no need to throw in the towel on your side biz. You can easily put the business on "pause" and come back to it when you have more time.
3. You can make serious dough
Just because you might be limited to how much time you can invest in your side hustle, doesn't mean you should be limited to how much money you can make. One of the best things about starting a directory website business is that it provides passive income with unlimited earning potential.

The chart below illustrates how much money you can make if you charge $50/mo for each business to be listed on your website. This amount is just a suggestion and you can charge businesses as much or as little as you like. You can also earn additional income by selling banner ads on your website.

Since businesses pay you a monthly fee to be listed on your website, you'll continue to earn money for as long as they're a client. This provides you with a source of passive income that you can count on for years to come.
Conclusion
If you're thinking about starting a side hustle, starting a local directory website can be the opportunity you've been searching for. Getting started with Ideal Directories is extremely easy and inexpensive. Running your directory website won't consume more of your time than you allow, and it can be incredibly financially rewarding.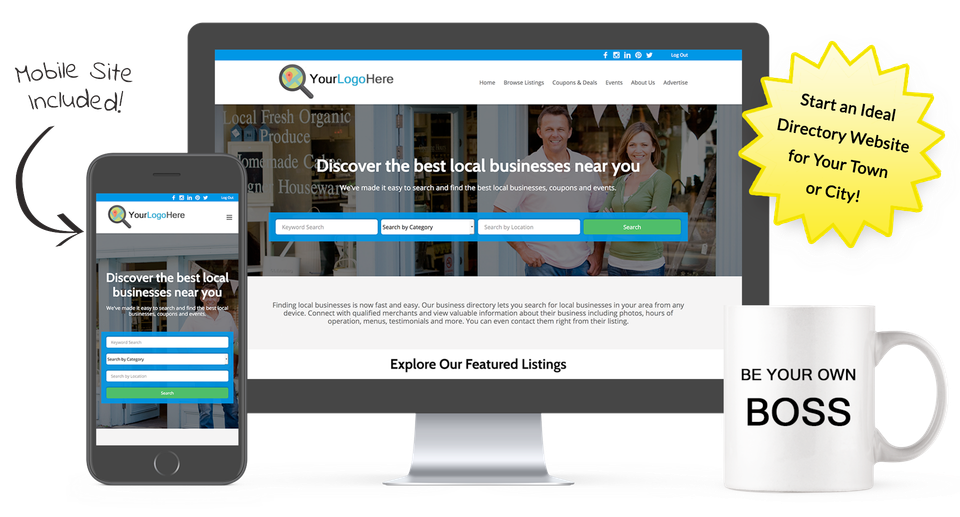 Start a Directory Website for Your Town or City!
Make money promoting local businesses, coupons & events in your area.