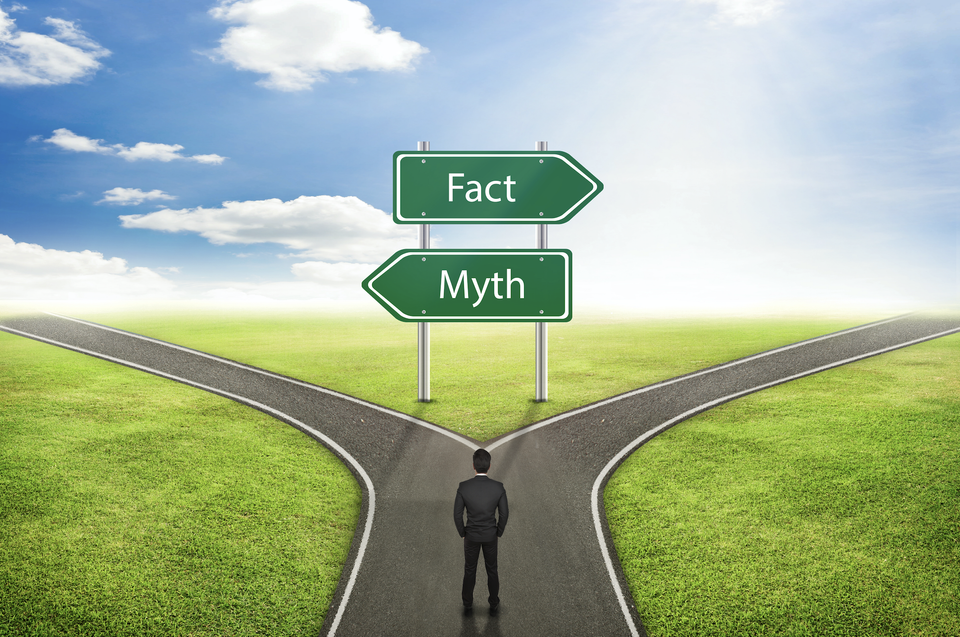 6 Myths About Starting a Local Directory Website
Published on February 21, 2022
Many people are interested in starting a business directory website. However, they might be intimidated by the myths surrounding the industry. It's often thought to be expensive, difficult, time-consuming, and something that can only work in certain markets.

But, it's actually quite the opposite and we're here to address all of these myths! Don't base your business decisions on assumptions or falsehoods. We expose and explain the six most common myths to be aware of as you inch closer to starting a local business directory website.  
Myth #1: You Need to Be a Tech Guru
Many online business owners assume they need to be a tech guru in order to run and maintain an online directory website. They often believe they will need to know everything about servers, coding, and HTML.

The truth is that you can easily customize website directories using our online platform with only basic computer skills. Our online directory platform allows anyone to manage a directory website and even let businesses add listings and manage coupons or advertisements by themselves.

You don't need any prior knowledge of HTML or Javascript when managing your directory website through the Ideal Directories platform.

As a website owner, you don't necessarily have to have all of the technical answers. Through our highly trained staff, we offer new local directory website owners full support and educational resources.

Our support team can walk you through the whole process and answer all of your questions. We've made it easy enough so that anyone with basic computer skills can do it. Our How it Works page will walk you through the easy process.
Myth #2: 
Businesses Already Have Their Marketing Figured Out
Many people assume that businesses feel they have their marketing figured out just because they have been advertising elsewhere or already have a website.

The truth is, most businesses do not know what works for them and what doesn't. They need help to figure it out. If you bring a local business with an attractive listing onto your site, you can educate them about the benefits of being on your directory website and perhaps get them to switch from their current marketing methods.

Many businesses are still using outdated marketing tactics such as newspapers and print mailers. Why? Because they don't realize the potential digital marketing opportunities they are missing out on nor how to market themselves online.

This is where online directory businesses come in. As a directory owner, businesses will see you as the local marketing expert and follow your lead. It's the perfect way to enlighten and inform them of the many benefits of having their website listed on your directory.

Many of these businesses are making advertising mistakes every single day. When you approach them with a proven method of how to promote their business and get their brand in front of local consumers, you can be considered an asset and major influence on their business marketing tactics.
Myth #3: 
Local Listings Don't Work
Some people think that local listings don't work and aren't an effective form of advertising.

The truth is, local listings do work and, in fact, they work very well! According to Hubspot, 46% of all Google searches are looking for local info.

In our digital age, consumers are quick to turn to the internet when they need information. It is the fastest and best way to learn about businesses and just about anything else. Through a local directory website, people are able to find a local or nearby business and be informed on key details about the business such as location, contact info, operating hours, business website, services/products offered, and more.

In addition, 97% of people will learn more about a local company online than anywhere else.

As a directory owner, you allow these businesses to stand out from the rest by reaching consumers and proving more exposure.

There are so many benefits to having local listings. Here are just a couple:
Consumers Search Online for Local Businesses
As mentioned before, 97% of consumers are researching products online in their local area. Having a business listed on a local directory website allows new consumers to find them and provide important information about the business. 
The more exposure a business has, the greater the opportunity to increase sales. When listed on a directory website, a business's visibility is heightened and they can experience more online and/or foot traffic. This gives them an advantage over competitors who may not be listed in a directory website. 
Attract More Local Customers 
Think about companies such as Yelp or Groupon. They cater to everyone. However, local directories give you an opportunity to market specifically towards a local group of people. This can help make it easier to build customer loyalty and attract new local consumers.
Through Search Engine Optimization (SEO), directories provide businesses with backlinks, when one website links to another website. This is an important aspect of SEO and gives that business a boost in their SEO ranking. Which in turn increases website traffic.
Business information changes often. For example, businesses change their operating hours during the holidays or a business may be under new management and so the primary contact is different. No matter what the update may be, directory listings allow customers to stay informed and provide them with reliable information about the business.
Local directories allow potential customers to do their research about the company. People like to learn about a business before working with them. It also further solidifies that the business is legitimate. Overall, when a business is listed on a directory website it helps build trust and loyal customers. 
Coupons have been a strong marketing tactic for generations and the perfect way to get customers in the door. Directory websites allow businesses to promote and offer those coupons to generate more sales.  
Drive More Website Traffic
As mentioned before, a local directory listing can help increase the SEO ranking for a website. It also provides more exposure since it's listed on another site that people search for local businesses near them. Between the two, you'll see a significant increase in website traffic.
Myth #4: 
You Need to Be in an Area With a Large Population 
A common myth with local directories is that you need to be in a major metropolitan area to make sales. This simply isn't true at all! Local business directories can generate a substantial amount of money even in small markets.

When running a local business directory website, you only need to sell a handful of listings to turn a profit. Most towns (even small ones) have thousands of local businesses. If you sell even just 100 listings, and charge $50/month for each, you can generate $5,000 per month in recurring income.

Furthermore; there is normally less competition in small or rural towns giving you the opportunity to stand out with a website dedicated exclusively to your community.
Myth #5: 
You Can't Make a Lot of Money
Another myth is that you can't make a lot of money. However, you should know that if you create an online directory business, you can make a substantial income.

A local business directory can generate multiple streams of revenue. As mentioned, one of the ways you can generate money with a directory website is selling listings to local businesses.

You can also sell banner ads on your site. Banner ads often sell for even more than listing. It's not uncommon for directory owners to charge $100-$300 per month for a single banner ad.
For more ways on how you can make money from a local directory website, click here.
Myth #6: 
It's Difficult and Expensive to Start
One last myth people hear about local directory websites is that they're difficult and expensive to start.

With Ideal Directories, you can start a business directory website and be up and running in less than 24 hours. All you need is a computer and an internet connection. Who doesn't have those things?

Launching your business with Ideal Directories is inexpensive. We offer affordable pricing plans that give you everything you need for one low monthly fee.

In addition to being easy and inexpensive, listed below are some other great benefits of starting your own directory website.
Become your own boss

Work remotely and anywhere you want

The ability to make your own schedule and work the hours you want

It's low risk to start a directory website

You become a major resource for the local community

It's fulfilling since you'll be helping small businesses grow

Between memberships, signups, and paid ads, you'll make a lot of money
How to Start an Online Directory Business
When it comes to starting an online directory business, we make the process as simple as it gets. Within three steps you'll have your business up and running in no time.
Step One
Select the local city you want to run your directory in and we'll have it up and running in under 24 hours.
Step Two
Next, our support team will help you set up your website. We'll provide you with all of the resources you need such as sales scripts, marketing flyers, and more.
Step Three
Once you have the site up and running, you keep 100% of the revenue. This means you can make money on day one!
Start a Business With Us Today
So that's all there is to it. As you can see, there's nothing intimidating about starting your own local directory website, in fact, it's easy, affordable, and there's great income potential when you start an online directory business with Ideal Directories. It can be done by anyone, all you need is basic computer skills.

Our team of experts are ready to help you start your business today. If you have questions or if you're ready to start a business and have it up and running in 24 hours, contact us today!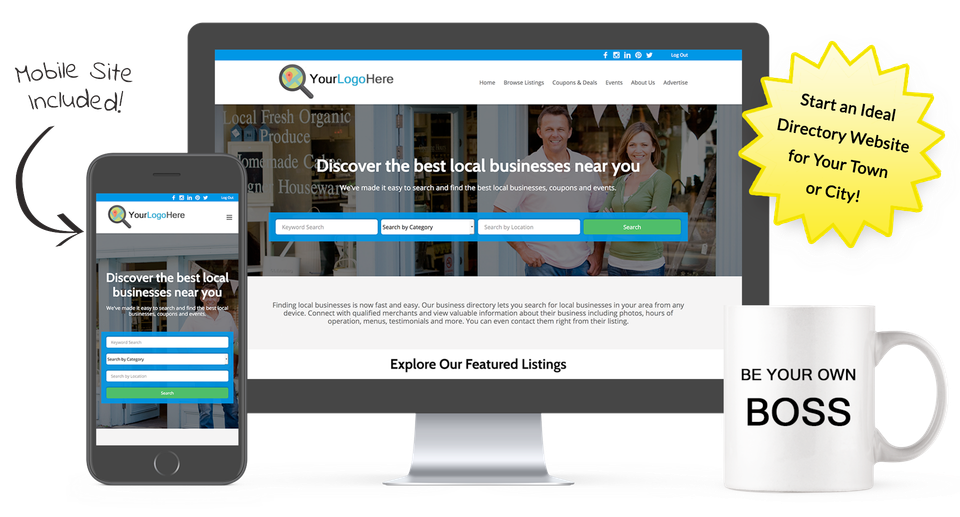 Start a Directory Website for Your Town or City with Ideal Directories!
Make money promoting local businesses, coupons & events in your area.