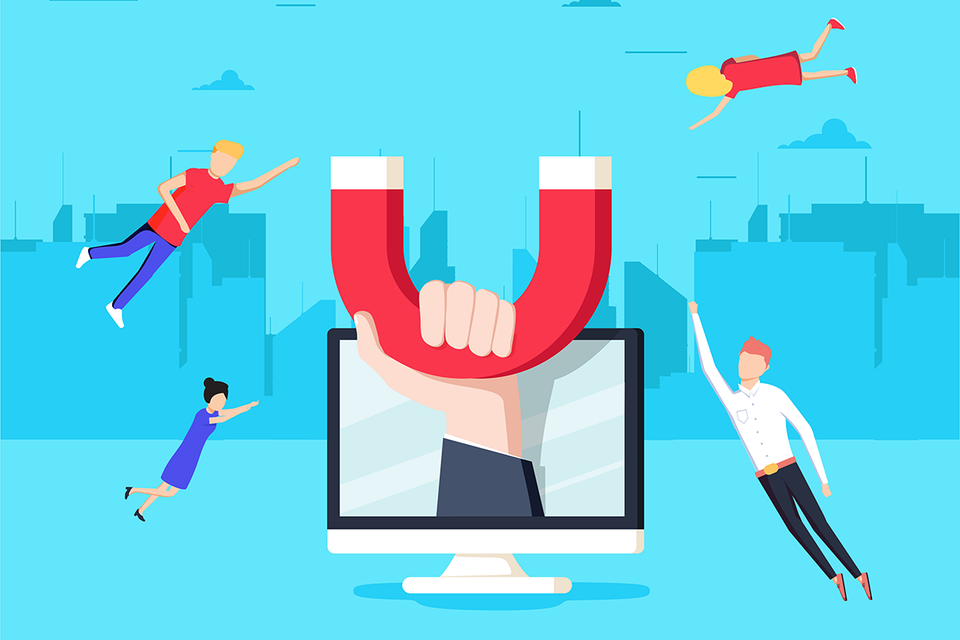 How to Turn Your Directory Website into a Traffic Magnet
Published on October 13, 2021
Congrats! You've recently launched your own directory website with Ideal Directories, and it is live for the whole world to see. But how can you get traffic to your website?

Getting traffic to your directory website is one of the keys to long term success. After all, what good is a listing on your website if nobody sees it?

Chances are you've heard the expression "build it and they will come." We have news for you: website traffic doesn't work like this. If you want real success with your directory website, you need to take the necessary steps to drive traffic there.

Thankfully there are a lot of easy steps you can take to help to improve your chances of coming up in search results and getting traffic to your site. Here are 9 ways to make your directory website a traffic magnet:
1. Pick a Good Domain
Choosing a good domain name for your directory website is one of the simplest ways to help get traffic. A good domain name is memorable, easy to spell and is relevant to your site. If it's too long, confusing, difficult to say or spell, you're only making it more difficult for visitors to type it in and get correct. Oftentimes, the simpler the domain, the better it is.

Make sure to choose a domain that has your town or name in it along with a term like "directory" or "coupons and deals." This can really help with getting Google to notice you and display you better in the search results. You'll definitely want to spend some time on getting your domain right. Be sure to check out our other article on choosing a good domain name for your business directory website. 
2. Add New Listings Often
Google and other search engines love to see new content on your site, and since the majority of your site content consists of business listings, it makes sense to continually update it with new listings. Even if some of these new listings are free, go ahead and add them. If the thought of adding hundreds of listings to your site sounds time-consuming, break it down into smaller chunks, adding a handful of new listings each week.

You could always start off with just some basic information for each business listing like the company name, address, phone number and a brief description. Then as time goes on, you can upsell the client on a premium listing with photos, reviews, videos, and more. The more consistent you are with adding new listings, the more "search engine love" you'll get.
3. Optimize Your Site for Local Search
Search engine optimization (SEO) is very important. One of the core foundations to search engine optimization is adding the proper language and meta tags to your site. This is also known as the metadata, which is important for helping search engines understand what your site is about. Without the proper metadata in place, search engines would have to guess what your website is about, which could hinder your search results.

The three most important meta tag elements are:
Title Tags – Title tags are used to tell both users and search engines what the topic of a particular webpage is about and is usually limited to 60 characters.
Meta Description – The description meta tag consists of about 1 - 2 sentences and provides a general overview of the content found on that page.
Keywords –  Keywords are words or phrases that accurately describe the main features of your directory website or page. For best results, don't use broad or general terms. Instead, create specific key phrases that are "localized" for the particular directory.
Click here for more information and instructions for adding meta tags to your Ideal Directory website.

It's also important to notify the search engines about your site. We highly recommend that you submit your website to the major search engines as early and as frequent as possible. Submitting your website URL to search engines can help improve search engine rankings, increase online visibility and drive traffic to your website. Our Search Engine Submission tool makes that possible with just one click from your Ideal Directory dashboard. You can even choose automatic monthly submissions to further enhance your search results.
4. Become a Community Resource
Your directory website doesn't have to be strictly all about local business listings. You could also add some community-related listings. Think about content that residents of your community would be interested in finding and that is relevant to your site.

Anything community related can be a valuable addition to your directory. For instance, you could start by adding listings for landmarks, parks, public places like libraries, universities, post offices, hospitals, common tourist spots, the town hall, etc. You could even add pop-up COVID testing sites. As mentioned in #2 above, these additional listings would also help you get more "search engine love."
5. Promote Your Site Regularly
Consumers need to be told multiple times to take an action. In fact, it often takes about 8 "touches" before someone becomes a paying customer (source). Therefore, it's very important to actively market your site and be proactive and persistent with your messaging.

Be sure to promote your site anywhere and everywhere. One of the best places to start is social media. By promoting your directory website on multiple social media platforms like Facebook, Instagram, Twitter, Pinterest, etc., you'll engage both consumers and businesses in your community. Try to post relevant content with a call to action to visit your site, and of course include a link to your directory website.

Over time, Google and other search engines will also take notice of your social media activity and gradually display you better in the search results. The key is to be consistent and proactive with your promotional efforts.
6. Offer Coupons & Deals
A great way to make your directory website a traffic magnet and encourage visitors to come back often is to offer the best coupons and deals. People are always searching for local coupons and deals online. In fact, online coupon usage is at an all-time high and has exceeded print coupon usage for the first time in 2020.

Consider these impressive coupon stats from SpendMeNot:
Almost 90% of consumers used coupons in 2020.
Over half of consumers prefer getting coupons and discounts on their mobile devices.
Over 142 million US adults redeemed digital coupons in 2020.
68% of consumers believe that digital coupons generate loyalty.
Almost 70% of consumers love receiving coupons.
Online coupon users spend 24% more than regular shoppers.
Digital coupon redemption grew 27% in 2020.
Here's the bottom line: making coupons and deals available on your directory website will attract more visitors and keep them coming back for more. Be sure to do your part to encourage them to come back by featuring new and more coupons on your site through your advertisers. Also encourage advertisers to take advantage of this feature and offer their very best offers or deals that are exclusive to your site.
7. Start an Email Newsletter
An email newsletter is a great way to stay in touch with site visitors and keep them coming back often.

In fact, according to Contactually:
93% of Internet users have indicated that they'd rather receive brand information in their email inbox rather than their social media feed

Email newsletters can help you stay at the forefront of customers' minds

In some cases, email marketing can pay off more than other techniques like social media, direct mail, and even paid search
Thus, it definitely pays to get a consistent email newsletter started. You can create an email newsletter using a platform like MailChimp. After you set up your MailChimp account, you could then send out a weekly or monthly newsletter that features some of your businesses listed on your directory website along with featured coupons and any upcoming events.
8. Promote Your Brand Everywhere
In addition to promoting your directory website in multiple places online, you'll also want to promote offline in multiple places. For instance, you should include your website address on all of your marketing materials including brochures, letterheads, business cards, etc. Simple details like this can help drive traffic to your site.

You may also want to get custom-branded apparel like t-shirts, hats, or tote bags with your logo and directory name on them. Vehicle magnets can also be a great eye-catcher. Another idea is to create an email signature with your logo and site URL which can then get you clicks and attention. The key is to make the most of all your different channels, both online and offline.
9. Form Valuable Relationships
Establishing relationships with other complimentary businesses or organizations can also help create a constant flow of traffic to your site. For instance, you could look for sponsorship opportunities for the local Little League or build a relationship with the local chamber of commerce. Ask if they'd be willing to link to your site from theirs.

You could also find some realtors to work with - give them promotional materials to hand to new homeowners in exchange for a free listing on your site. After all, your directory website is a terrific resource for new residents in your community. The more valuable relationships like these you can form, the more website traffic you could ultimately get.
Final Thoughts
After you build out your directory website, you cannot expect people to just show up. It takes time and attention. Getting traffic to your directory website can seem like a daunting task at first, but if you break it down into smaller steps, the process is fairly easy. Use our suggestions above to get the ball rolling. The sooner you get started, the sooner you will see results. Whether you decide to implement just one technique or all of the above techniques, remember that consistent action is key.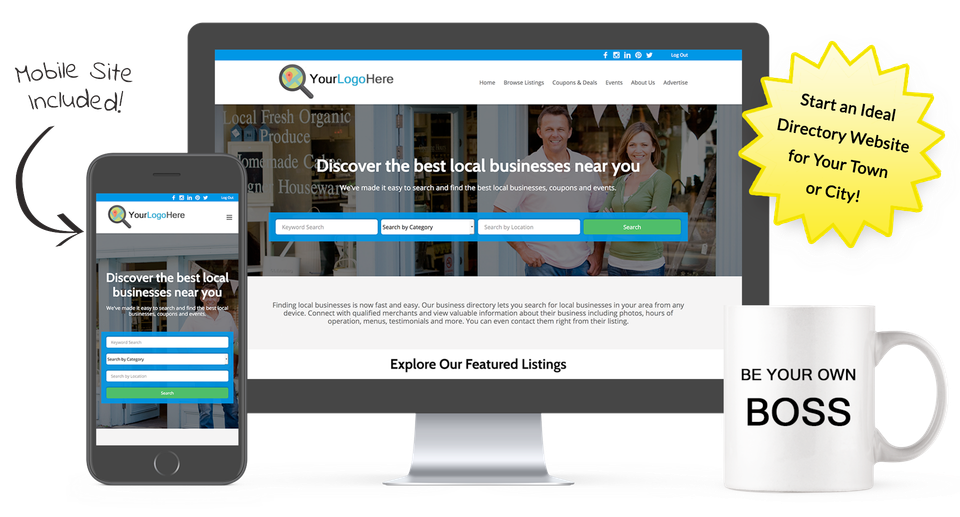 Start a Directory Website for Your Town or City with Ideal Directories!
Make money promoting local businesses, coupons & events in your area.