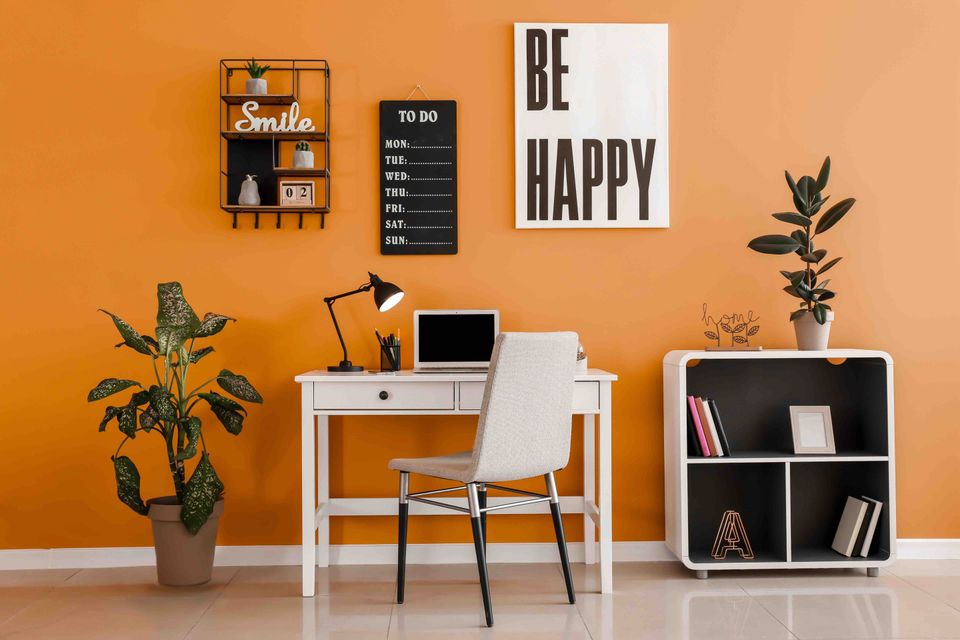 Upgrade Your Work from Home Space With These 22 Home Office Essentials
Published on March 21, 2022
In the past few years, remote work has reached an all-time high and become a societal norm for entrepreneurs and employees. Studies have estimated that by 2025 at least 22% of the workforce (36.2 million Americans) will be remote.

When working from home, it's important to set yourself up for success. Having the proper setup can help not only be more productive but comfortable as well.

If you think it's time to upgrade your home office then you're in the right place. Keep reading this guide for 22 home office essentials you should have in your space.
1. Computer or Laptop
The very first thing any remote worker needs in their home office is a way to get their work done. That's where a computer or laptop comes in handy. Deciding between the two is completely up to you and is typically determined by the type of work you do and your comfort level.

Some people enjoy a simple laptop setup with an external Bluetooth mouse. Others find it easier to get a heavy workload done with a two-monitor setup. The amount of space you have to set up your equipment will also help you determine what is most conducive for you.
2. Proper Desk (or Adjustable Desk)
Having the right desk is definitely the next step in upgrading your home office. There are multiple factors to consider when it comes to getting a desk that's suitable for you. For instance, how much surface space you'll need will determine which size you go with.

When choosing the size of your desk, consider all the items you need to place on your desk on a daily basis. Then, (to be on the safe side) add a little bit more space on top of that. We tend to gather more belongings than we need, especially in spaces that we occupy most.

Another thing to consider is how adjustable the desk is. Research has shown that sitting for long periods is linked to a variety of health concerns including heart disease, weight gain, anxiety, and back issues. Finding a desk that can adjust from sitting to standing will help you fight against the side effects of long sedentary sessions.

One last thing to think about is the shape of the desk and how it will fit into your home office design. You may need a regular rectangle desk, a corner desk, or an L-shaped desk. This depends on the side of the room you'll be working from.
3. Ergonomic Chair
Ergonomic chairs are another item amongst the home office essentials that decrease the health risks that come with long sitting. These chairs are made to support our weaknesses that come from sitting for an extended period of time. For instance, a lot of chairs will take lumbar support and lower back area into account.

These seats typically aim to boost things like proper blood circulation. They also have adaptive features that help make everyone's experience customizable for their specific body needs.
4. Hi-Speed Internet
The internet makes being able to work from your home office or running an at-home business possible. If you want to make sure you're most productive and can continue to meet the demands of the job then hi-speed internet is essential.
You don't want to run the risk of missing out on important work time because a file downloaded too slow or you couldn't connect to the videoconference. Save yourself the headache and be sure to invest in hi-speed internet.
5. Adequate Lighting
You can quickly upgrade your home office by adding sufficient lighting. Some home offices may not have a lot of natural light and of course, you may lose this by the end of the workday. It's best to have adequate lighting in the work area with features that are adjustable in tone and intensity to reduce eye strain and headaches.
6. Wireless Keyboard and Mouse
Using a computer requires your wrists to sit in a particular position for long periods of time. This can sometimes compromise comfort and cause issues. Avoid this by using a wireless keyboard and mouse. A wireless keyboard and mouse especially come in handy when you're using a laptop. With these wireless accessories, you have more freedom to adjust your hands in a way that is most supportive for your wrists. 
7. Webcam
Virtual conference calls and meetings seem to be here for the long haul. Rather than simply your cell phone or the built-in camera on your laptop, consider investing in a webcam that can be more reliable and better quality. Everyone's webcam needs are different. When selecting the webcam that's best for you, consider the functionality, resolution, lighting needs, and design of the product. 
8. Selfie Ring Light
As mentioned, creating content and being on camera for virtual meetings and calls is a more of a demand these days than ever before. One way to brighten up your on-camera look is by using a selfie ring light. These are great for rooms that don't have much natural light or proper lighting. You'll look more professional and allow viewers to see you better. 
9. Wireless Headphones
Just because you're working from home doesn't mean you don't need to move around. Even when you're sitting at your desk you might need to roll from one side to another. If you listen to music or other audio to help you work then a pair of wireless headphones is a must-have.

Wireless headphones give you free range of movement without getting out of your groove. These are also ideal for someone who needs to make work calls throughout the day. They create less hassle and safety issues than corded headphones which can get caught on things.
10. Power Strip With USB
If you're someone with a lot of devices, a power strip will be very helpful. Maybe you have to simultaneously charge your cell phone and laptop, while also powering your monitor and plug in your desk light. Power strips are safe, convenient tools which allow you to use your devices all at once. 
11. Cell Phone Stand
In today's world of content creation and video calls, having a cell phone stand makes things much easier. It can be helpful to have when you are using your phone for more than one purpose such as searching for information while speaking to someone and taking notes. You won't have to worry about holding the phone so you can be handsfree when trying to multitask.
12. Desk Organizer
If you're like most people who work from their desks, you've accumulated a collection of random office items and papers. Sometimes your pens, paper clips and highlighters seem to take over the space. But working in chaos isn't ideal for productivity.
You can reap the benefits of a tidy home office by using a desk organizer. When your desk is organized, you'll feel more at ease and less distracted by the clutter taking over your workspace. 
13. Desk Calendar
Trying to remember every important date and meeting on your own is nearly impossible. It's also a bad practice for productivity and punctuality. Instead, use a desk calendar to help notate important appointments, meetings, follow ups, and reminders for each day of each month.

Desk calendars are great because they're large enough to write on and also too big to miss. This office accessory will help you stay organized, and serves as a visual reminder for all tasks you have scheduled and want to accomplish for the day. 
14. Printer
One of the worst feelings of working from home is needing to print out important documents but not being able to walk to a nearby copy room. To avoid this happening, add a printer to your list of home office essentials. It'll be even more convenient to have a multifunction printer that can print, scan, fax and copy.
15. Inspiration Wall
It's important to stay inspired and motivated when working toward your goals ─ especially as a business owner. One thing to include when you upgrade your home office is an inspiration wall. This is where you can keep any encouraging messages, images, quotes and other reminders to help you stay focused and enthusiastic.
16. Ideas Notebook
You never know what you'll be doing when a great idea strikes. That's why it's best to have a designated place to store them all. Consider adding an ideas notebook when upgrading your home office.
Purchase a notebook that looks different from any others. Maybe one that has an inspiring quote or scenic image on the front. This way you can identify it easily if you're trying to catch a quick thought before it disappears. 
17. Coffee Maker
Early mornings and long workdays may require a boost of energy. And of course, we've all experienced that mid-afternoon lull. Instead of having to run back and forth to the kitchen for a quick replenishment, why not have the coffee supply right where you need it to be?

You can add a coffee maker to your office for convenience. You'll also probably save money with an at-home coffee station on hand instead of ordering out.
18. Coffee Mug Warmer
It's halfway through the workday and you reach for your cup of instant energy only to find that it's cold. Instead of running back and forth to the microwave, try out a coffee mug warmer right at your desk. You'll get to enjoy the coffee longer and save yourself the hassle of having to make a new cup.
19. Live Plants
Plants have been shown throughout time to have many benefits for our health. They can help with improving moods, lowering stress and anxiety, and purifying air. It will also make your office space feel warm and inviting. Liven up your home office design and environment by adding a live plant.
20. Pens & Highlighters
Pens and highlighters are a must-have. Whenever you need to quickly jot down a reminder or capture a good idea on paper these supplies come in handy. Be sure to have multiple colors for easier organization. Highlighters, in particular, come in handy when you need to emphasize important information or dates on your calendar that you don't want to forget. 
21. Post-it Notes
Post-it notes are an amazing way to make sure you never forget anything. These little sticky paper pads are great for quick notes, to-do lists, and thoughts. After you write down the note, stick it somewhere that you often look like on your desk, the corner of your computer screen, or in a notebook. 
22. Portable Lap Desk
Somedays you might want to switch up the scenery and work outside of your home office. In this case, having a portable lap desk is essential. Rather than having your laptop sit directly on your lap, you can elevate it with a lap desk for a better remote work experience. It'll still support your computer and supplies as well as can be used for traveling away from your desk.
Upgrade Your Home Office With These Home Office Essentials
Having these home office essentials within reach can make your workday much easier. It adds convenience, boosts productivity, and gives you an overall peace of mind when your space is well-equipped.

You'll definitely want to upgrade your office if you own or are just getting started with your own business. If this is you, consider reaching out to Ideal Directories today for a demo to launch your own business directory website!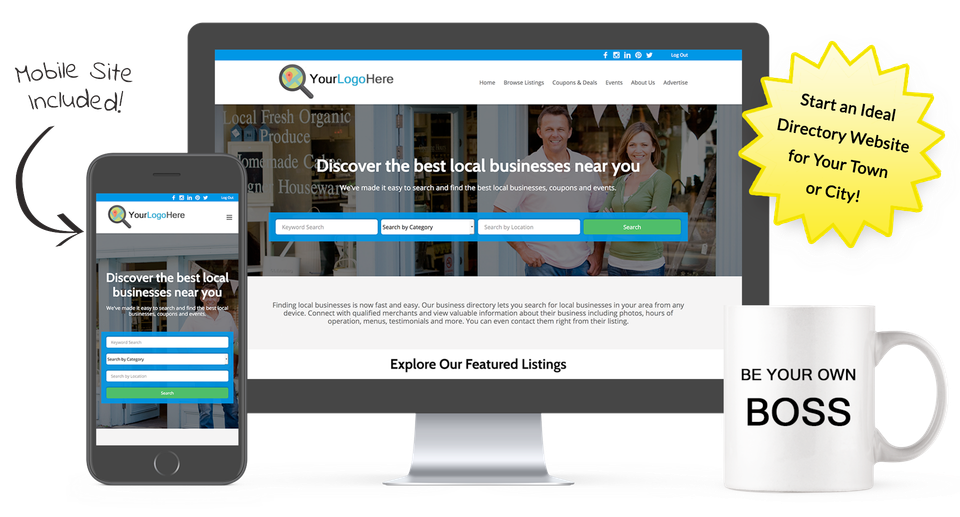 Start a Directory Website for Your Town or City with Ideal Directories!
Make money promoting local businesses, coupons & events in your area.