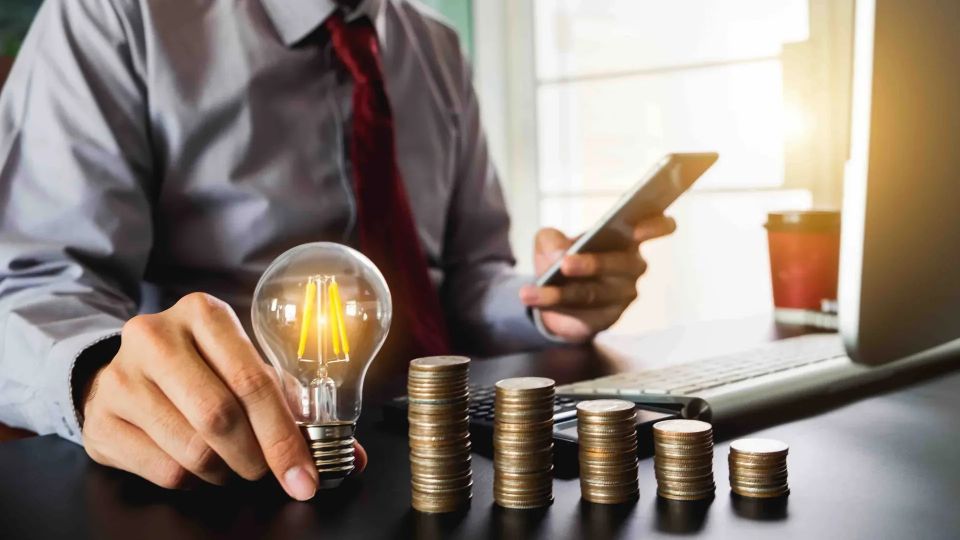 9 Ways to Add Value to Your Business Directory Website
Published on April 4, 2022. Updated on June 19, 2023.
Businesses are constantly looking for new ways to market their services or products and bring in new customers. As an affordable and effective option, directory listings help merchants increase local visibility, improve search results, build credibility and drive traffic both to their website and in-store. For these reasons, starting an online directory business and coupon website is a great way to help businesses and consumers alike while also turning a profit.

When you start your business directory website with Ideal Directories, you'll have access to a variety of tools and resources to help you promote your business. Your marketing efforts are two-fold. You want to bring on new advertisers as well as drive consumers to your site. To do so, consider different techniques you can use to increase value for your website directory. This will help you further demonstrate the benefits for businesses to be listed on your website.

Here are 9 strategies to help you add value to your business directory website.
1. Start an Email Newsletter
An email newsletter is a great way to spread the word about your business directory. A monthly or weekly newsletter will give businesses options to keep your brand on their mind and attract new visitors to your site when they're looking for a local solution or a great coupon.

As an easy way to create and distribute email newsletters, use a mailing platform such as MailChimp or Constant Contact. You'll be able to replicate your newsletter and update accordingly for each subsequent newsletter you send.

Within your newsletter, you can spotlight businesses listed on your directory, share coupons, and feature advertisers. This can be an added incentive for businesses to be listed on your business directory website or you can charge a nominal fee for this type of supplemental marketing. Through your newsletter, a business can reach an audience of local consumers who are their ideal customers. 
2. Promote Your Site on Social Media
Running a business directory website will require you to establish your digital brand on accessible platforms like social media. In general, you'll want to discuss the services you offer and some of the businesses you feature on a few different profiles.

Also, keep in mind which social media platforms your local business owners and consumers use most. Facebook, LinkedIn, and Instagram are a few of the most widely used platforms. Although you might use each platform to target a different audience. For example, since LinkedIn is known for being a platform for businesses to connect, you may use this outlet to reach out to business owners while consumers searching for local solutions and information about their town or city may be actively on Facebook and Instagram.

In addition to your regular weekly posts, you may consider investing in social media advertisements as another way to promote your business. The perk to using paid advertising is that you can get very specific in how you target your ideal customer to get your brand in front of them.  
3. Help Advertisers Set Up Their Profile Pages
Adding a personal touch and offering great customer service can really go a long way. For some business owners, they may be interested in a business listing but don't have the means or staff to create the listing for their business. That's where you can step in to offer a white glove service and populate the listing for them. Not only will you be able to gain their business but, they'll have a great overall experience with your help and build their confidence in you.

During the setup process, make sure their business listings are created to spotlight them in the best possible light with all the information, images, and details that consumers would want to know and see. If the business owner doesn't provide the information you need for their listing, do you research.

Check out their website or social media pages to gather the information and photos you need to best showcase the business. 
4. Limit Competition Between Advertisers
It may seem natural at first to list as many businesses as possible on your business directory website. After all, more businesses mean more information for users and better profit for your business.

However, listing too many businesses in the same category can deter them from joining your directory. They want to be listed to attract more customers, not compete with countless other businesses that offer the same or similar services or products.

Try limiting competition between advertisers on your page by breaking down services into specific categories with only a few businesses per category (ex only 10 per category). You could also consider limiting the number of businesses on your site and charging a premium for more exclusive representation.

In both of these cases, you're adding value to your website because you're carefully vetting the businesses that are listed on your business directory website. 
5. Seek Out Coupons & Deals Near You
The key to attracting more visitors to your business directory site is to give them information that they can't find anywhere else. You want visitors to think of your business directory website as a valuable resource full of helpful information and quick solutions.

One way to add more credibility to your site is to seek out coupons and valuable deals near you. Identify the businesses in your area that are offering the best deals and add them to your website - even if this means advertising these businesses for free.

Including businesses who have great deals will do two things for your website. First, it will add value for visitors, which will drive more traffic to your site. Second, it will show business owners that you are a potential source for collaboration.

If they choose to offer a deal or promotion, they know that your site will cover it. And as a result, they may be inclined to buy a business listing on your directory website. 
6. Post Local Community Events
Spreading the word about local community events is another great way to get your business directory on the map. From networking events to craft fairs, on any given day, there are countless events that occur in your area that you can promote.

As part of your marketing strategy, you can choose the type of local event that you'd like to sponsor to help curate your business directory's brand appearance. For instance, you may consider sponsoring your town's street fair or parade. These types of gatherings will get your brand in front of the masses and will be associated with a fun community event.

In addition, you can attend a business networking event or a local chamber of commerce meeting so you can get on the radar of business owners in your area. Here you'll be able to form connections and discover what you want your impact to be in the community.
7. Build Site Traffic
Launching your business directory website is a significant milestone. But it won't add value for visitors unless people are viewing the information listed.

By working on ways to boost traffic to your site, you'll attract more visitors who are looking for helpful information while boosting your search engine rankings - a win-win.
Here are 3 ways you can start building traffic on your site:
Add New Listings
Search engines love when you constantly update your website with new, high-quality content. And since all of your content is business listings, you should be updating it frequently anyway.

Every time you add a new listing, even if it's free, it will establish to search engines that your website is a source of credible information. As long as you have some helpful key pieces of information like the company name, address, hours, and phone number, you can upset the client for more details like adding pictures and reviews later.

For more ideas, you can also add your own content such as blog articles and photos of your town or city.  
Optimize for Local Search
Search engine optimization is perhaps the best way to build organic and free traffic for your website. But you'll want to take your SEO optimization strategy a bit further than using proper keywords and making your page mobile-friendly.

The key to your SEO strategy should be a local approach. For instance, in recent years, searches for local places with the qualifier "near me" have grown 150%, which is much faster than similar searches that don't include these words.

Simply using the words "near me" as a part of your local SEO strategy could make your business directory rank higher among local searches.
Build Backlinks
A backlink is a link to a page or website on the internet that links to your website. Backlinks will generate and drive traffic to your business directory website whenever someone clicks on them.

They're also a source of authority, as search engines like Google, Yahoo and Bing have explained that high-quality backlinks demonstrate that your website is relevant and more credible.

You can use paid services to help you build backlinks, but you'd be better off getting backlinks from  your local community such as a chamber of commerce or your town's library. It's a good idea to reach out to local community organizations or networks and ask them to link your directory to their website. Many organizations will be happy to add you as a valuable resource.
8. Run a Promotion
Sometimes customers need to feel as though they're getting a deal before they commit to a purchase. In your case, try offering new customers a limited-time promotion that perhaps would discount the cost of a listing on your site or receive a free banner ad for three months after upgrading to a premium service.

Promotions will attract more clients who wish to be featured on your website, which will, in turn, add more value for you. In addition, you'll be able to be more selective about who you feature, which will help monetize your business directory website.
9. Offer a Complimentary Service
Lastly, to further enhance the value proposition of your business directory website, consider incorporating a complimentary service alongside the listing. By going the extra mile, you can foster stronger client relationships and increase retention rates. Explore potential synergies between your directory and other related services that y
ou can either "throw in" or bundle with a directory listing on your site.

For example, you can design business cards, offer to manage their social media, build them a website, or write their Google Business profile. Anything that will increase the perceived value of a listing on your directory and make businesses want to sign up.
Optimizing Your Business Directory Website
Adding value to your business directory can be easier than you think. By providing updated quality content to users and putting your brand out in the community, you'll notice that consumers and businesses will start to rely on your directory as a local source for information.

Learn more about how to improve or start a business directory website. Watch our demo!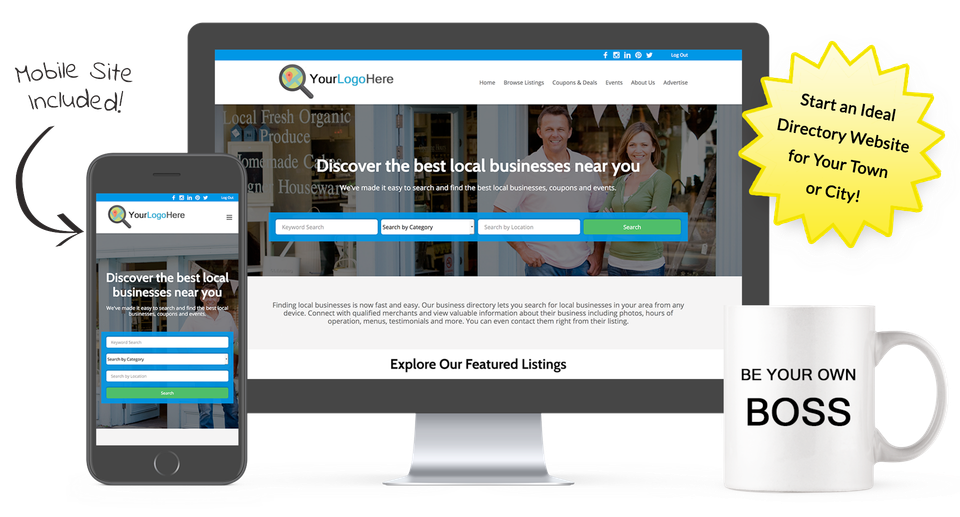 Start a Directory Website for Your Town or City with Ideal Directories!
Make money promoting local businesses, coupons & events in your area.