8 Sales Icebreakers To Help Level-Up Your Sales Pitch
Published on January 25, 2023
If the idea of another potential client saying "no" to you fills you with fear and anxiety then just take a deep breath. 60% of customers say no a total of four times before they say yes. So, all it takes is a little persistence.

That being said, we know just how intimidating direct sales can be. Sometimes, the hardest part is getting a genuine conversation started. In those cases, it's helpful to have some sales icebreakers in your sales toolkit to help you start authentic, engaging conversations with prospects.

If you're struggling to get things started, here are some expert tips and suggestions on how to break the ice when meeting with a potential client for the first time.
The Importance of Being Proactive With Sales
If you're new to selling clients on the benefits of signing up to your business directory website then it's helpful to first understand the importance of being proactive with sales.

This often helps our clients understand how important these icebreakers can be in the sales process. It helps them view the importance of the sales process and the role it plays in their overall success.

So, why should you be proactive when looking for advertising prospects? Well, namely, you're not likely to be successful in any business if you just sit back and wait for clients to come in.

By being proactive, you can identify new opportunities and seize them before your competition does. Additionally, being proactive allows you to stay ahead of changes in the marketplace and adapt your sales strategy accordingly.

Finally, proactivity shows customers that you're invested in their success and that you're always looking for ways to improve their experience. If you want to be the best salesperson you can be, start by being proactive.
What Are Sales Icebreaker Questions?
So, you understand how important having a sales team or even a great pitch is. Now, how do you start the sales process? Using sales icebreaker questions can be a great way to get started.

By asking questions about the client's business and needs, you can get a feel for what the customer is looking for and how best to approach them. You can also use icebreaker questions to build rapport with potential customers and establish trust.

The best sales icebreakers are casual and conversational, allowing you to gather information without putting your prospect on the spot. However, it's important to ask the right questions and avoid coming across as pushy or intrusive.

By following these tips, you can use sales icebreaker questions to start meaningful conversations with potential customers and close more deals.
Use Icebreakers to Build Rapport
We mentioned building rapport above but just want to dive a bit deeper into what we mean by this and how important it is to your success as a business directory website owner.

Building rapport with potential advertising clients is crucial. Not only does it establish trust and strengthen your relationship, but it also sets a positive tone for future negotiations and collaborations.

This is especially important in an advertising industry where clients have a variety of options to choose from. Furthermore, building rapport helps establish a long-term working relationship that can help you reduce churn costs that hurt your bottom line.
One of the easiest ways to build rapport with someone is to use an icebreaker. After all, you want to make a good impression and get the conversation going, but you don't want to come across as being too pushy or forward.

This can be something as simple as asking about the weather or a hobby. The key, however, is to find something that you have in common with the other person. This will help to create a bond and make the conversation flow more smoothly. 
8 Sales Icebreakers to Enhance Your Sales Pitch
When you're making a sales pitch, it's important to make a connection with your potential customer. However, sometimes it can be difficult to think of things to say.

If you're struggling to get the conversation started by simply inquiring about their day or the weather then here are eight great icebreakers you can use during your next sales pitch.
1. Talk About Something Familiar
No one wants to feel like they're being sold to, but everyone loves talking about themselves. When you can find a way to connect with your prospect on a personal level, you'll be well on your way to establishing a rapport.

Talk about something that you have in common, whether it's where you grew up, your alma mater, or a shared hobby. If you can find something that you can bond over, you'll be one step closer to making the sale.
2. Offer a Genuine Compliment
It's important to make a great first impression on your potential client. One way to do this is to offer them a genuine compliment.

This doesn't mean that you should flatter them or say something that isn't true. It also doesn't mean you should comment on their physical appearance or offer superficial compliments.

Instead, find something about them or their business that you genuinely admire and let them know. This will show that you are sincere and interested in building a relationship with them. It may also help to break the ice, making it easier to transition into your sales pitch.
3. Talk About Current Events
You can also talk about current events to break the ice with potential clients. This will show that you are up-to-date on what is happening in the world and that you are a well-informed person.

It's a casual way to warm up to the prospect and to get the conversation started without it sounding like you're leading straight into a sales pitch. If you can find a way to tie the current event into what you are selling, even better! 
4. Show Them How Much You Know About Their Business
Showing a potential client that you have done your research and know about their company is a great way to start a sales pitch. You can begin by discussing the client's specific industry and what trends are happening in the market.

Then, you can discuss how your directory listings can help the client meet their goals. By starting with this type of information, you will be able to show the client that you are knowledgeable about their business and that you are invested in helping them succeed.
5. Ask Them About Their Business Problems
Did you know that need and budget are the two biggest factors in whether a prospect connects with a representative?

This means that if you can help get the conversation started by showing genuine interest in what they're currently struggling with in their business, you're already working towards identifying the first big factor: their needs.

What do they need? How can you help them achieve success? Start the conversation with a genuine interest in what they're currently struggling with as a business owner.
6. Ask About What Inspires Them
When you ask your potential client about what inspires them, you create an opportunity to connect on a deeper level. This connection will give you insight into what motivates them and help you better tailor your sales pitch.

Furthermore, it shows that you're interested in more than just making a sale; you're interested in understanding them as an individual. This type of genuine connection is essential for building trust and closing deals.
7. Find Commonality
When you can find something that you have in common with the other person, it helps to create a connection and makes them more likely to trust and be interested in what you have to say.

This doesn't mean that you should start talking about your personal life right away, but finding something small that you can connect with can make a big difference.

For example, if you're both parents, you can mention how difficult it is to find time to pursue hobbies outside of work and family obligations. Or if you're both from the same city, you can talk about your favorite places to eat or visit.

Whatever it is, finding that connection will help to enhance your sales pitch.
8. Tell an Engaging Story
One of the most effective ways to break the ice is to tell a story. A well-told story can hook your prospect in a way far more engaging than any formal introduction could ever accomplish.

When choosing a story to share, look for one that is relevant to your product or service and that highlights one of your company's key values. Be sure to structure the story so that you're not blabbering on and on without a point.

If you can get it right, this is a great sales tactic, though. By sharing an engaging story, you'll be able to break through the noise and deliver an impactful sales pitch that will leave a lasting impression on your potential customers.
Grow Your Directory Website Business
Using great sales icebreakers is only part of the equation when it comes to successful selling as a directory website owner.

At Ideal Directories, we understand that there are a lot of other moving parts. This is why we provide you with a variety of marketing tools to help you grow your business. We are invested in helping you succeed.

Ready to see just how easy we make it for you to succeed with us? Click here to watch our demo and then get in touch with any questions you might have.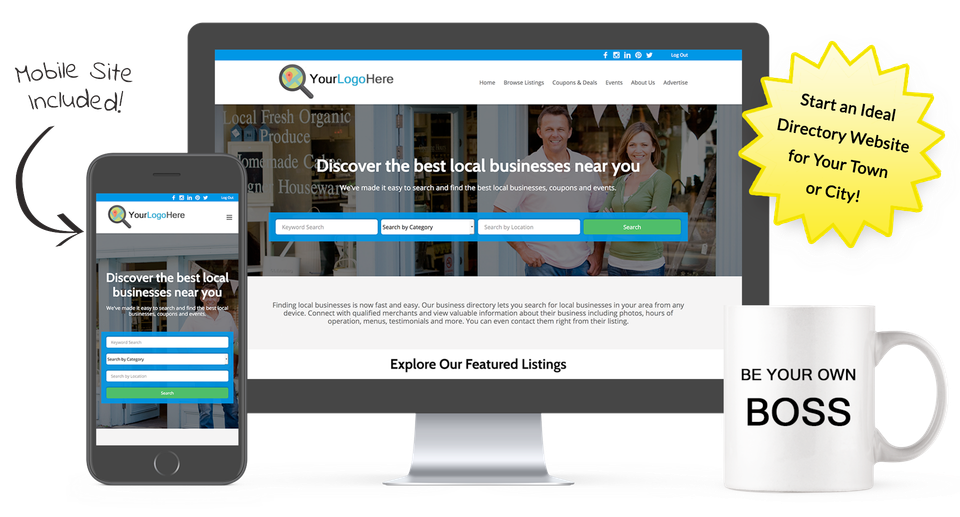 Start a Directory Website for Your Town or City with Ideal Directories!
Make money promoting local businesses, coupons & events in your area.