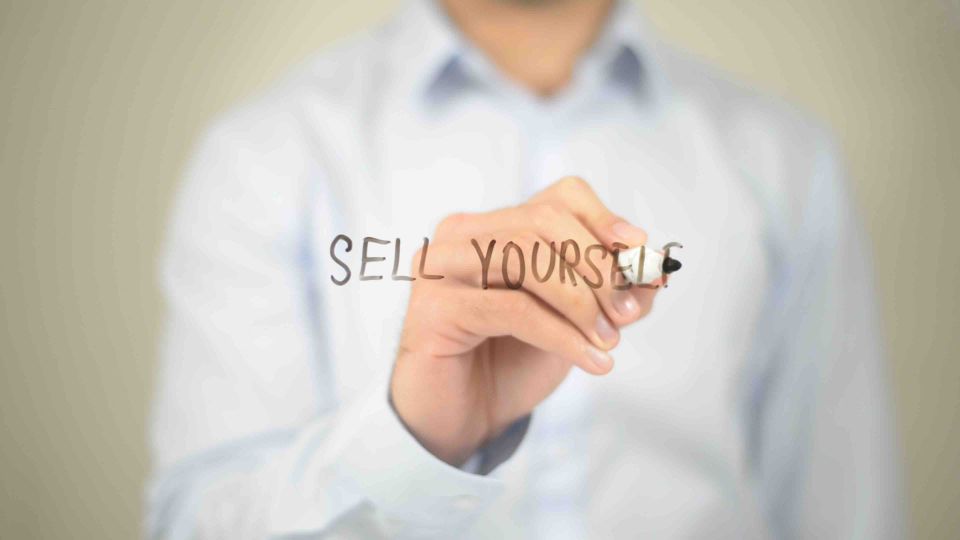 Why You Need to Sell Yourself in Sales and How to Do It
Published on September 12, 2022
What do you think of when you hear the word sales? If you're a new business owner you may think of some common sales tactics such as cold calling and going door-to-door to find prospective customers, and explaining to them why they need or could benefit from your product or service. But, there's more to being a salesperson than that. In order to be successful in sales, you have to be able to also sell yourself.

The most effective salespeople have one thing in common: they've learned how to sell themselves. Selling yourself isn't usually something you think about as you're starting out in sales, but it's one of the most important skills you can learn. You can have a great product, a great pitch and all the marketing collateral in the world, but if a prospect doesn't like or trust you, they probably won't buy from you.

When you sell yourself, you're showing people why they should do business with YOU over the competition. It's about putting yourself out there, being genuine and working to maintain a good reputation. In most cases, people don't just buy into a product or service, they buy into the person that's selling to them. So it's important to put your best foot forward and be someone that people want to work with.

Keep reading to discover eight ways to effectively sell yourself so that you can build a good rapport with your potential clients and close more deals.
1. Be friendly and likable
Like in any other type of customer-facing role, as a salesperson it's first and foremost important to be friendly and likable. To make a good first impression you want to exhibit these qualities at the beginning of your interaction with a potential client. It makes you easy to talk to and approachable. Within just a few moments of meeting or speaking with you, a prospective customer will already have a perceived idea of whether you are someone they will like, want to speak further with and even buy from. Being personable and knowing how to communicate with verbal and non-verbal cues are all part of having good people skills.

There are a few things you can do to make sure you come across as a friendly and likable person so that the customer you're speaking with feels comfortable and is engaged in the conversation. Smile and make eye contact when you're talking to them, listen more than you talk, be polite, give a good handshake, and even give compliments when appropriate. But above all, be positive!

For example, you are the owner of a directory website and you want to sell a business listing or advertising space on your site. So you walk into a local restaurant and upon meeting the business owner you make eye contact when you introduce yourself, shake their hand and compliment them on their food, the smell, the atmosphere or something unique you noticed upon walking into the building. By doing so, you'll start the conversation on a good note and make a memorable first impression.
2. Exhibit confidence
Confidence comes from believing in yourself and your abilities. As a salesperson you want to tap into this confidence. Your potential customers need to see that you believe in your product or service, but you also need to be humble enough to listen to their needs and address any concerns they have. This can be a delicate balance, but it can be done with the right approach and mindset.

One of the best ways to exhibit confidence as a salesperson is to be prepared. Know your product or service inside and out so you can answer any questions a potential customer might have. You also want to show that you stand by what you're selling and that you're the best person to provide it.

To establish their trust, give them an offer that displays your confidence. For instance, if you own a business directory website, you can give them a free business listing on your site for a limited time (3 month trial) or allow them to cancel at any time with no penalties. Presenting these types of offers to a potential client are a great way to build their confidence in you and the service you're selling.  
3. Be professional 
The way you carry yourself and the level of professionalism you exhibit can impact your success in sales. This means dressing the part, being articulate, and knowing your stuff whether you're networking amongst strangers or meeting with a client. Being punctual, organized, prepared, respectful, polite, personable, and positive all contribute to your appearance as a professional business owner. As part of your actions, you also want to sound professional when you're communicating with clients both verbally and in writing. For example, when communicating via email try to use proper grammar and avoid incomplete sentences or slang words.

Keep in mind that showcasing your professionalism extends to your online presence as well, so make sure your site looks its best and that social media profiles are up-to-date and present tasteful images and content about you and your business.
4. Be consistent in the quality of your services
Selling yourself in sales means providing consistent, high-quality services to your clients. This not only helps you build a good reputation, but also makes it more likely that potential clients will use and be satisfied with your services. While selling yourself, be sure to keep your promises, communicate effectively, and always follow through on your commitments. Being consistent with the quality of your services shows that you're reliable and trustworthy - two essential qualities in any good salesperson.

When you start your own directory website with Ideal Directories, you can sell with confidence knowing that you have a quality service and affordable solution for small businesses in your area that want to advertise and get in front of their target audience. With a secure, mobile friendly directory website that's optimized for SEO, business owners and consumers alike will always have a pleasurable experience when they visit your website.
5. Think about others needs, not your own
People are more likely to buy from a salesperson they feel has their best interests at heart than from someone who seems pushy and self-serving. Instead of focusing on your own needs, talk in the interest of your clients. To demonstrate your sincere desire to help them and provide a solution to a problem they may have, ask lots of questions. Find out more about their business, goals, growth and even current advertising or marketing efforts they use. The more you know about their business, the better job you can do at showing them how your product or service can be beneficial to them.

One of the easiest ways to market yourself is to communicate the passion you have for your business and its mission. When you talk about your directory website business to a potential customer or anyone for that matter, express your passion for helping small businesses. Convey your goal of providing your directory website as a valuable resource to the community and affordable advertising options to local businesses to help them prosper. Sharing this background information about you and your business with a prospect can make you more relatable which can make it easier for you to earn their trust.  
6. Provide exceptional customer support
Arguably, the best way to sell yourself is through providing excellent customer service. You need to show them that you're knowledgeable, helpful, and reliable. No matter what you're selling, providing exceptional support to your customers is key to keeping them happy and demonstrating to them why doing business with you is the best decision. This means being responsive to their needs, available when they need you, and providing them with the information they need to make a decision. With these actions, you're showing them that you're committed to providing them with a great experience.

When you're trying to make a sale, you want to show your potential client that you're easy to contact and are accommodating. Let's say you have a small business owner that expressed their interest in purchasing a business listing on your directory website but they can only talk on the phone after normal business hours. While this might be a bit inconvenient for you, you'll want to be flexible. Check your calendar and try to find a day and time in the near future that works for you as well as for them. This allows them to see that you're attentive to their needs as well as gives them a glimpse of what they can expect from you when they become a client. 
7. Go above and beyond what's expected
Another way to differentiate yourself from the competition is to go above and beyond to show your prospective customer that you care. You can do things like research beforehand so you can anticipate their needs, be genuinely interested in them as a person, and follow up after the meeting. By doing more than what's expected, you're adding value to the relationship and showing them that they are important to you.

As it relates to owning a directory website, some great examples of this could be anything from taking photos of their business to add to their listing, to offering a free banner ad on your site or even mentioning their business on your social media channels at no additional charge. The key here is that you're generously offering to provide a service beyond the norm that will benefit your client.
8. Listen to feedback and proceed accordingly 
Learning how to sell yourself takes time and practice. One thing that can help in the process is being able to listen to feedback and adjust your pitch and strategy accordingly. Feedback will help you understand what potential customers are looking for and how you can improve your sales technique. By listening to feedback and making changes, you'll be able to sell yourself more effectively and build a good reputation as a salesperson. Keep in mind that there is no one perfect way to sell yourself; it's about finding the best approach for each person based on their needs.

In order to get feedback about your sales approach, you can listen to people's reactions when you're giving a sales pitch. If they seem interested and engaged, then you're on the right track. However, if they seem bored or uninterested, then you may need to make adjustments. Additionally, you can ask people for specific feedback after a sales pitch. What did they like? What didn't they like? What could you have done better? Asking for feedback will help you improve your sales skills over time.
In conclusion
Some new business owners dread the idea of selling themselves, and sales in general, because they believe that if you're not naturally gifted at it, then you can't be successful at it. But this couldn't be further from the truth! While developing your sales skills, use the tips listed in this article to help you start selling yourself so people can see why they should and want to do business with you. It takes practice to become an expert salesman, and it also takes a certain level of confidence that most people don't have by default. Luckily, both of these things are learnable skills, and as the saying goes 'practice makes perfect'.

When you start a directory website with Ideal Directories, you're equipped with a variety of marketing tools to help you sell your services. But, using the resources you're given should be just one part of your sales strategy. The way you sell yourself using your unique personality and passion for the work you do are key to building and growing your business.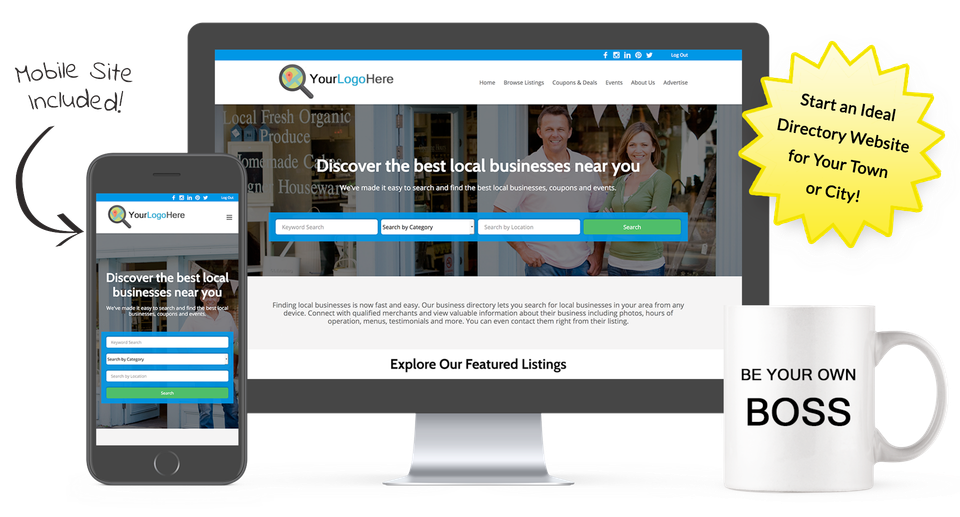 Start a Directory Website for Your Town or City!
Make money promoting local businesses, coupons & events in your area.