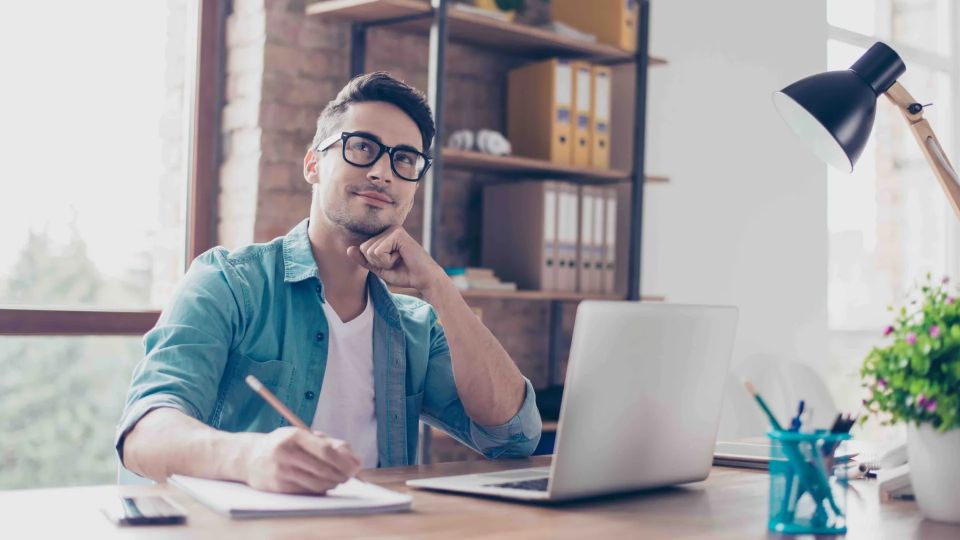 5 Steps to Creating a Captivating Headline for Your Directory Website
Published on August 15, 2022
The headline on your directory website is one of the most important aspects of your website's homepage. The headline is defined as the title or text that appears over your main image and tells site visitors what your website is all about.

The headline is the first thing your site visitors will see when they visit your directory and is often larger than the rest of the text on your site. A well-crafted headline is relevant, clear, descriptive and captures the attention of your audience.

Whether you're looking to start your own directory website or looking to optimize your current site, here are 5 tips for writing an effective headline for your directory website:

1. Use Descriptive Terminology & Keywords
2. Keep it Brief (5 to 12 words)
3. Include the Town or City You Serve
4. Add a Short Subtitle or Supporting Text
5. Experiment with Different Variations
1. Use Descriptive Terminology & Keywords
A descriptive headline captures the visitor's attention and allows them to quickly identify with your website. When crafting a headline, use words that will not only peak their interest but that make your business unique. Also, consider keywords that your target audience might use during their online search that will help your website rank well with SEO. Keep it simple and avoid the use of jargon, trendy, and slang words. While they may seem clever, it could have a negative impact on the ability of people finding your site in their online search. The key is to use a combination of both descriptive terms and keywords within your headline that helps educate site visitors on what they will gain by exploring your site.

Start by brainstorming and making a list of key words and phrases that describe your directory like "businesses", "coupons", "deals" and "events". You can always look up more exciting synonyms using a thesaurus after you have finished getting your ideas down. These words will act as the building blocks in your headline and description. When identifying descriptive words to use, think of adjectives or verbs such as "best," "explore," "deals," "save," and "discover." These types of words encourage a "call to action" and can prompt the visitor to stay on your site longer. 
2. Keep it Brief (5 to 12 words)
While a headline is the most prominent text on your website's homepage, it should be short in length. In other words, get right to the point. You have a small window of opportunity to grab your site visitors' attention so use it wisely. "Users often leave web pages in 10–20 seconds, but pages with a clear value proposition can hold people's attention for much longer. To gain several minutes of user attention, you must clearly communicate your value proposition within 10 seconds." (source)

Most people scan web pages and headlines, not reading every word. When creating a headline for your business directory website, keep it brief, approximately 5 to 12 words. This will ensure that the message you are looking to convey to your visitors can be easily and quickly interpreted. To help minimize the amount of words you use, try to steer clear of filler or fluff words such as "really," "very" and "just." These are words that add clutter to your headline and don't add real value to the overall meaning. 
3. Include the Town or City You Serve 
As the owner of a hyper-local directory website, you have a unique opportunity to help small businesses connect with local consumers. In the same way, your website is an incredible resource for locals to reference when they are looking for a product or service from a reliable and trustworthy business in their area. For this reason, it makes perfect sense that you would want to include the town or city into your headline. It's what's going to help your directory stand out and appeal to members of your community.

Including the town or city name is also beneficial for SEO. Consumers using "near me" and the name of the town or city in their online search has become much more common in recent years. So, by including this detail you can improve your site's search results which will boost traffic to your website. 
4. Add a Short Subtitle or Supporting Text
While your headline should "hit home" with the main purpose of what your site is all about, you could also add a subtitle of supportive text to compliment it. The subtitle should be slightly longer than the headline text and further explain what your business directory website is all about. It should work harmoniously with the headline without being too redundant or wordy. if your headline doesn't do this already, your subtitle could include a "call to action" as well as more descriptive terms and keywords. By adding keywords in your subtitle you're further improving your chances of increasing your search engine rankings.

When crafting your subtitle, you may want to reference the list of key words you wrote down earlier for your headline. There could be a few words that are worth including in your subtitle as well. Some examples of sub titles for your headline include…
We've made it easy to search and find the best local businesses, coupons and events in and around [City or Town].

Browse our site to discover some of the great local businesses in  [City or Town].

Connecting [City or Town] residents with the best local businesses in the area. Start your search below.
Just like for the headline, it's always good to experiment with different variations and update your subtitle from time to time. 
5. Experiment with Different Variations
During the process of choosing a headline, write out different variations to identify which one you like best. Try shortening it or lengthening it, adding more information or making it simpler. This can be done quickly by removing and changing some words around. You might even want to consider reaching out to your network of friends and family to get their feedback. Sometimes getting others' opinions can help you feel confident in your decision or inspire you to try something else. But just remember -  don't overthink it! You can always change the headline at any time.

When you're happy with one version, test and monitor its performance over time to see if any changes are needed. You might find that as you begin to grow and add more business listings to your site that you want to make slight modifications to the headline or subtitle to best reflect your directory website.

Keeping in mind the points we reviewed, here are some examples of headlines to consider for your own directory website.
"Discover the Best Local Businesses in [City or Town]"

"Explore, Shop & Save in [City or Town]"

"[City or Town]'s Source for Local Businesses, Coupons and Events"

"[City or Town]'s #1 Hyper-Local Business Directory"

"[City or Town]'s Favorite Website for Local Businesses, Coupons and Events"
For additional inspiration, view example directory website headlines here. 
Craft a Compelling Headline for Your Directory Website
A captivating headline is crucial if you want to attract high-quality traffic to your directory website. In fact, one study found that your headline is responsible for 94% of whether visitors will remain on your page or not. Put simply, you don't have a second chance to make a first impression, so why risk it with a boring headline? Use the tips listed in this article and get creative with a headline that will intrigue your site visitors to explore your website and keep them coming back.

Sign up today and start your own business directory and coupon website, powered by Ideal Directories, for your town or city.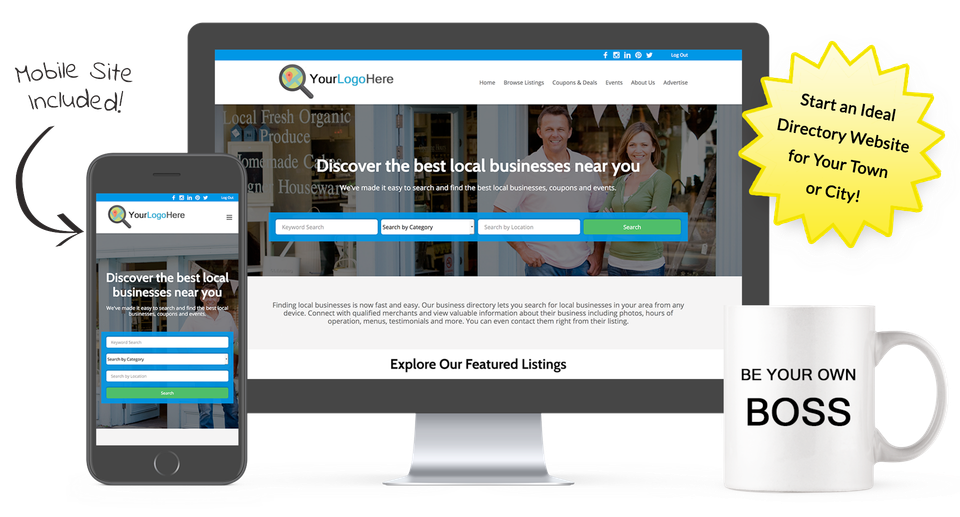 Start a Directory Website for Your Town or City with Ideal Directories!
Make money promoting local businesses, coupons & events in your area.