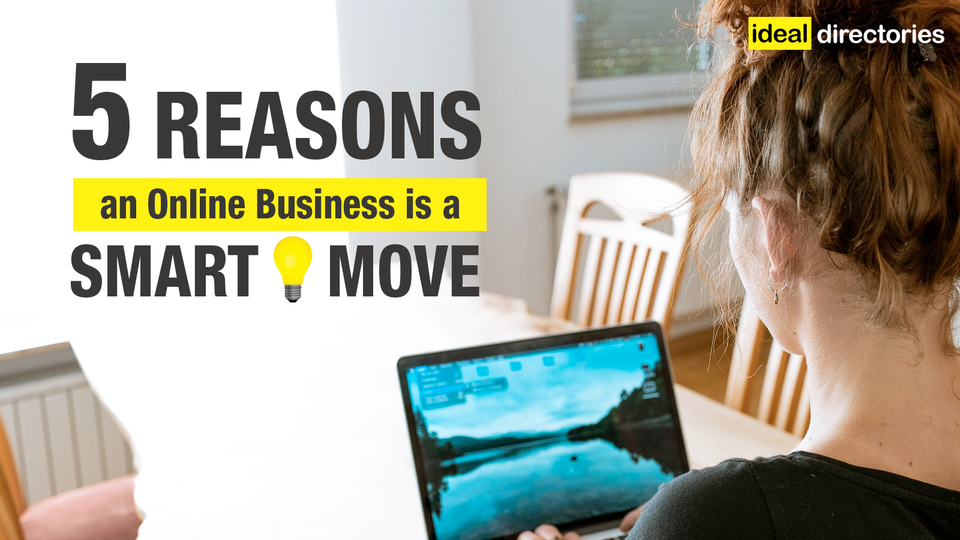 5 Reasons an Online Business is a Smart Move
If you're thinking about starting a business, consider starting an online business. You might assume that a brick-and-mortar or traditional physical business is the only way to go, because that's what you're accustomed to or have been exposed to the most over the years. However, as more people spend more time online, aided by the COVID pandemic especially, entrepreneurs are switching their focus to businesses that can be run from home, online, on their terms. If you're contemplating entrepreneurship, here are the top 5 reasons why starting an online business is a smart move right now: 
1. It's Inexpensive to Start and Operate
Every entrepreneur considers a multitude of factors when deciding the type of business they're going to start. One of the biggest considerations is the initial expense, or investment, that needs to be made. Talk to any owner of a traditional business and they'll tell you that getting it off the ground can be very expensive. Between securing a storefront or office space, buying equipment and supplies, hiring workers and getting them trained, it's a very pricey endeavor to both initiate and maintain. It can take years upon years to pay that debt off, and if the business doesn't succeed, that debt can become a personal debt that will never go away.
On the contrary, when starting an online business, your costs to get started and continue operations can be very minimal. With Ideal Directories, if you want to start a local business directory and coupon website for your community, there is one low monthly fee and that's it! No storefront, physical location, trucks, equipment, or inventory and supplies. If you have a laptop and a place to sit with an internet connection, you have exactly what you need to start. 
2. There is Minimal Risk
One of the big questions you have to ask yourself when starting a business is: "Am I comfortable with risk, or averse to risk?" Certainly by starting a business, you're comfortable with a certain amount of risk, because you know that you have to put something on the line to attempt to work for yourself. However, if you're like most people, you want to minimize the amount of financial exposure you have, with the goal of maximum reward. 
If you can risk fewer dollars and cents when starting a business, it puts you in a much better place to come out on top. Digging yourself a big financial hole by pouring in hundreds or thousands of dollars means you have to make that much more just to turn a profit. At Ideal Directories, we don't believe that entrepreneurship requires a big monetary investment. By providing you with a reliable platform for building and managing a local business directory and coupon website that's out of the box and ready to go immediately, and attaching a really low monthly fee to that, you can get started with the absolute minimum monetary investment. And since you have so little coming out of your pocket, it doesn't take a lot to make that money back and get into the black, financially. Lots of our clients tell us that they reach profitability with their first 3 sales. What other type of business can you start with that prospect of success?
3. You can Run an Online Business Part-Time
Starting and running a traditional business almost always requires a full-time commitment from the owner. With the high costs associated with starting a traditional business, most owners feel obligated to devote every waking hour to making it a success. This is one of the reasons why lots of people don't end up starting their own business; the idea of quitting the job you currently have and the thought of not having time to do other things is scary. 
At Ideal Directories, we believe that starting your own business should not require you to immediately jump in with two feet. There are lots of folks who are looking to start a business on the side, and operate it on their down time on nights and weekends and days off. They should not be excluded from the community of entrepreneurship just because they have a job and need that income to survive. Running a local business directory and coupon website is something that can be done on a very part-time basis. After all, your website is always online and available to people 24/7, benefiting anyone who visits, and your customers can sign up and pay you through your site anytime of day or night without you being home, in front of your computer, or even in the country for that matter! It's the ultimate "side hustle," if you will. 
4. You Don't Need to be a Tech Guru
Lots of prospective entrepreneurs and business owners skip past online businesses as viable options for them, because they consider themselves non-technical. This is understandable – the online business world is full of opportunities that require programming, deep technical knowledge, and familiarity with advanced mechanical engineering. 
From the very first day that the Ideal Directories platform was mapped out, simplicity, ease of use, and general accessibility was of utmost importance to us. We strongly believe that access to owning and operating an online business should not be relegated to only those who are technologically sophisticated. We knew there were eager entrepreneurs with sales experience, customer service experience, and just plain personal drive and ambition that didn't know much beyond how to copy and paste on a computer. Those are the types of folks who we wanted to make sure had an opportunity for success in running their own business. If you consider yourself a tech guru...great! But if you're not, it's absolutely not a requirement. 
5. You Can Work From Home
Ten years ago you probably knew very few people who worked from home. Today, it has become a popular trend, and one of the finest perks a job can offer. Now with the COVID pandemic sending people from almost every industry to work from home, it's widely popular, and making a lot of folks think that they never want to go back to the storefront or office they were once working from. This is certainly understandable – there are tons of benefits of working from home besides the obvious benefit of limiting your exposure to others during a pandemic. 
Ever wonder what it would be like to make working from home a permanent thing? Certainly, if you're going to do a side business part-time, it almost has to be from home...but think about how convenient that is to maximizing family time, working in optimal comfort, and coming and going as you please. Running a business directory and coupon website with Ideal Directories is completely doable from a home office, the dining room table, a comfortable couch, or in the attic with your headphones on! Take control of your schedule, your commitments, your goals, and your life by owning an online business that you operate from a convenient central command center – your home. 
If you have the drive and ambition to start your own business, why not minimize your investment, risk, time commitment, and traveling? Why not create a recurring revenue stream that is completely online and doesn't require technical know-how to operate? You have options when starting your own business, and Ideal Directories is here to help you exercise those options and give you maximum freedom within your own business ownership endeavor.
Questions? Interested in Learning More?
We'd love to hear from you. Contact us today to learn more about the Ideal Directories platform and how you can launch a business directory and coupon website in your market.