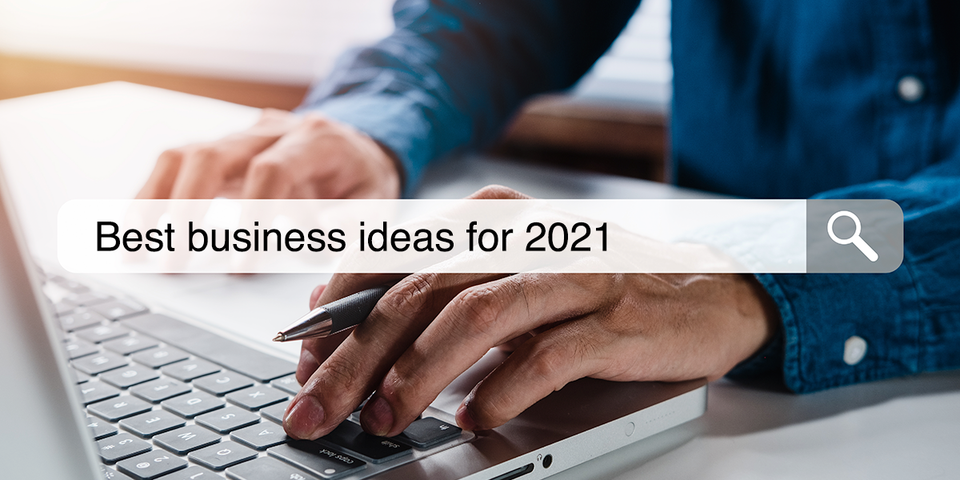 Why a Directory Website is the Best Post-COVID Business to Start in 2021
It's been a long time since the beginning of the COVID-19 pandemic, and Americans are finally starting to see a light at the end of the tunnel. Things are starting to get back to normal thanks to the effectiveness of vaccines and a drop in infection rates throughout the country.

If you've been putting your entrepreneurial dreams on hold, now might be the right time to start refocusing your energy on starting your own business. However, it's important to proceed with caution. Lots of businesses that might have seemed like prime opportunities to start before the pandemic actually now come with more risk exposure than ever before. For example, starting any "non-essential" business that could be closed down by another pandemic, is a factor that any entrepreneur needs to take into consideration.

While COVID has had a negative impact on lots of industries, it's also opened up brand new opportunities and paved the way for some previously established businesses to flourish. Online, home-based businesses are more popular than ever. Many people have gotten used to and comfortable with the idea of working from home, so many savvy entrepreneurs are looking for opportunities that let them work from home permanently.

If you're seeking a low-cost, low-risk business to start post-COVID, here are 8 reasons why starting a local business directory and coupon website could be your best bet: 
1. Businesses are Reopening and Need to Advertise
With COVID cases and infection rates dropping all across the country, things are finally starting to get back to normal. Mask mandates, social distancing, and indoor capacity restrictions are being lifted, providing many businesses with the relief they need to get back on their feet. While the road to recovery will be long and challenging, there is a new feeling of hope and optimism that is sweeping the nation.

As businesses continue to reopen, they'll need to invest in local advertising to get customers back in their doors. Confident that the pandemic is behind them, merchants are opening up their wallets and ready to spend on growing their business. A local directory website is a great way to let customers know they are open, and promote their coupons and deals to nearby shoppers. Since it's much more affordable than traditional advertising like newspapers or direct mail, it's the perfect solution for businesses just getting back on their feet.

Be prepared, though: businesses are starting to plan their advertising initiatives now. The sooner you can get in front of business owners with your new website, the better they can incorporate it into their reopening marketing plan. 
2. New Businesses Have Been Created
While 2020 was a nightmare for most businesses and impacted just about every industry in one way or another, it opened up the door for new companies to bloom during the pandemic. New standards in cleaning and customer safety have increased the demand for professional cleaning services. As a result, sanitizing and disinfecting companies are popping up everywhere. As gyms were forced to shut down, fitness startups emerged that offer in-house training, virtual classes and even "gyms on wheels" so customers can continue to live a healthy lifestyle from the comfort of their home. Even the pet industry is seeing new additions  Pet adoption spiked by 700% in 2020, and more and more pet sitting and pet related services are opening their doors.

What do all of these new businesses have in common? They all need a place to advertise locally. Since starting a new business can be challenging, especially for new and emerging industries, these businesses will need to be aggressive with their marketing and advertise in as many places as possible. Seize the moment and capitalize off of this opportunity by starting a local business directory and coupon website for your area to help them. A business listing or banner ad on your local directory website is the perfect place for them to start. 
3. You Can Continue to Work from Home
The concept of working from home has quickly become mainstream as a result of the COVID-19 pandemic. Forced to abide by social distancing restrictions, many companies gave their employees the option to work from home. This provided a fresh perspective on work-life balance and people quickly saw the benefits and advantages of working from home. By cutting out their commute, employees were able to shave hours off their work day and spend more time with family and friends. Many people even find themselves able to maintain a healthier lifestyle by working from home with better access to healthier meals, and more time to exercise.

While some companies will continue to offer remote working as an option in 2021, others have already begun requiring all employees to head back to the office. If you're not ready to give up the perks of working from home, starting your own business can make working from home a permanent thing. In fact, all you need is a laptop and cellphone to run a local business directory website with Ideal Directories. You can literally work from anywhere with an internet connection, and continue to work from the comfort and safety of your own home. 
4. It's Easy and Affordable to Start   
One of the biggest challenges and risks of starting your own business is the time and money it requires to start up. Most businesses require tens of thousands of dollars, expensive equipment, special permits, licenses, insurances, and months or years to get going. Many entrepreneurs will dump their life savings and all of their time into starting a new business. Sadly, a large percentage of these businesses will fail within the first year. After what we experienced in 2020, it's more important than ever for entrepreneurs to be careful of where they invest their time and money in a post-COVID world.

Starting a business directory and coupon website with Ideal Directories is a low-cost, low-risk opportunity that won't break the bank or leave you in financial ruin if things don't go as planned. Very few businesses can be started at a comparable price point as Ideal Directories. For just a couple hundred dollars you can launch your own directory website business practically overnight. The entire platform is cloud hosted, so there's nothing to download or install. All you need is a laptop and smartphone to operate your business. Sign up is quick and easy and there are no long term contracts. With Ideal Directories, you pay just a flat low monthly licensing fee to use the software and you keep 100% of the sales. 
5. You Can Work Part-Time
If you're hesitant about quitting your current job or planning on returning to work, don't let that prevent you from starting your own business. While some businesses might require all of your time and attention, a local business directory and coupon website is something you can definitely run part-time.

An online business like a directory website is the perfect side hustle for anyone looking to generate some additional or supplemental income without a full-time commitment. Many Ideal Directories clients run their website business part-time or on the weekends as a way to generate an additional revenue stream. After all, if there is one thing we learned from COVID-19, it's that having multiple streams of income is extremely important in creating financial security - especially during uncertain times. Once you're up and running, you can manage your directory website in just a few hours per week. The flexibility to make your own hours and create your own schedule is one of the things that makes Ideal Directories one of the best businesses to start in 2021. 
6. You Can Make Some Serious Dough
Most people were not financially prepared for the economic burdens of COVID-19 and millions of Americans were left without a job, without a paycheck and facing a scary and uncertain future. The fear of not being able to provide for your family is often a motivating force for entrepreneurs looking to start their own business. If you're looking for a business to start in 2021, earning potential is (and certainly should) be an important factor to consider.

Unlike other business opportunities that have limited growth potential, the great thing about starting a local business directory and coupon website with Ideal Directories is that you can generate passive income with unlimited earning potential. The business model is simple; you make money selling business listings and advertising on your site. The more listings you sell, the more money you make. Businesses pay you a recurring monthly fee (typically anywhere from $29 - $99) to be featured on your website and you keep 100% of the sale. Using the suggested price of $50/month, if you sell just 100 listings, you can generate $5,000 per month. Sell 200 listings and you can generate $10,000 per month or $120,000 per year.

With Ideal Directories' client billing feature powered by Stripe, the money will automatically and securely be deposited into your bank account each month, providing you with a reliable source of passive income that you can count on for years to come.
7. There's No Technical Experience Required
If you're thinking about starting your own business, you might tend to gravitate towards an industry that you're familiar with or one that aligns with your education or prior work experience. You might also be hesitant about starting an "online business," especially if you don't consider yourself very tech savvy. But as we all witnessed in the past year, technology and online businesses are the industries that thrived during the pandemic and will continue to grow in a post-COVID world.

With Ideal Directories, anyone with basic computer knowledge (able to type or write an email) can start their own directory website business. From navigating the back office to making updates, the Ideal Directories platform was designed to be simple and intuitive for both the site owner and its users. There's no complicated software to learn or technical skills required. Ideal Directories created an opportunity that anyone can take advantage of, despite their prior work experience or education level. Starting a directory website business is no longer limited to only those who are technologically sophisticated. If you consider yourself a tech guru...great! But if you're not, it's absolutely not a requirement.

Before you pass up the opportunity to run an online business, rest assured that you don't need to be a tech guru to launch a local business directory website with Ideal Directories. 
8. It's Virtually Pandemic-Proof
COVID-19 has impacted nearly every industry and many businesses are struggling to recover. It's estimated that nearly 30% of all small businesses across America have experienced a decrease in sales since the start of the pandemic leading to one of the scariest economic times in modern history. Many experts believe that we will be dealing with the repercussions of COVID-19 for years to come and are fearful of another outbreak. For entrepreneurs looking to start their own business, it's never been more important to choose an opportunity that is not only lucrative now, but stable enough to survive the threat of another pandemic.

Unlike traditional businesses like restaurants and retail stores who suffered the biggest losses during the pandemic, many online businesses thrived during COVID-19. At Ideal Directories, we've witnessed record growth over the past year – not only for ourselves as a company, but for our customers. Local directory websites proved to be an extremely valuable resource for communities all across the country, helping consumers easily find essential shops and services in their area, while providing an affordable form of advertising to small businesses. In some cases, a local directory website presented itself as the only logical place to advertise. During the height of the pandemic many traditional advertising mediums like newspapers and direct mail suspended their operations or closed up shop all together. This helped directory owners gain traction and market share as small businesses transitioned their advertising dollars from print to online, investing in local business listings and banner advertisements. After seeing the benefits and cost savings of advertising on a local directory website, businesses are renewing their subscriptions, and Ideal Directories websites are becoming a permanent fixture in every town and city.
Start you own directory website business in 2021
As the economy continues to recover, the entrepreneurial spirit is alive and well. Businesses are reopening, consumer confidence is on the rise, and aspiring business owners are turning their focus to the opportunities they think will thrive post-pandemic. If you're looking for the best post-COVID business to start in 2021, consider a local business directory and coupon website with Ideal Directories. Our low-cost, low-risk opportunity is perfect for entrepreneurs looking for a business that is not just fruitful today, but is stable enough to stand the test of time and even survive the threat of another pandemic. 
Published on June 16, 2021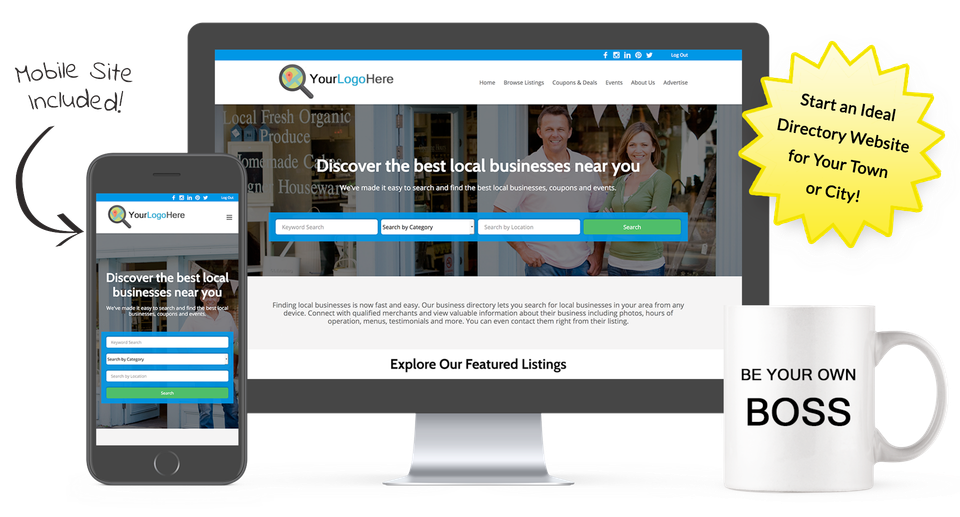 Start a Directory Website for Your Town or City with Ideal Directories!
Make money promoting local businesses, coupons & events in your area.