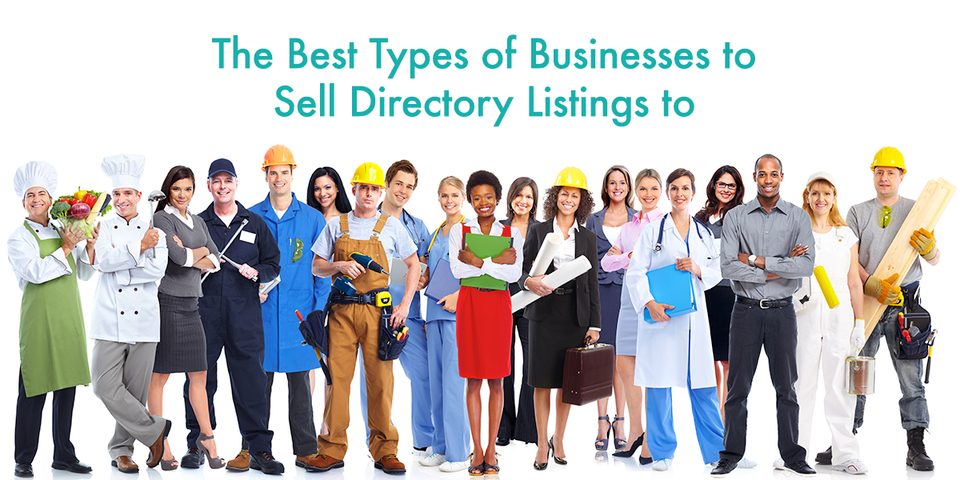 What are the Best Types of Businesses to Sell Directory Listings to?
January 20,2021
A local business directory website is a great way to make money online. With Ideal Directories, you can launch a local directory and coupon website for your community and
start generating a steady stream of monthly recurring revenue while working from the comfort
and
safety of your home. The primary way to earn money from your directory
website is to sell listings to local businesses. So which businesses should you target?
While just about
any small and mid-sized business can benefit from being listed on your
site, knowing the best businesses to target first will help you maximize your
sales efforts. Here are eight
businesses we recommend selling directory listings to:
1. Restaurants
Restaurants are known to invest heavily in local advertising. Restaurants also tend to have a "copy cat" mentality to advertising; meaning they will often advertise where
their
competitors are. So if you get one restaurant on your site, it will make it easier to get others. That, coupled with the fact there are hundreds if not thousands of
restaurants in any
local market, makes this a great industry to sell listings to.
Over the years, restaurants have increased spending on online advertising including local directory listings. That's because directory listings prove to be an effective
form of
advertising for restaurants. While traditional advertising like a newspaper ad is expensive and short-lived, a listing on your directory website provides restaurants 24/7 exposure
with the ability to upload photos, offer coupons, and post their menu online for a small monthly fee.
Think
about the last time you wanted to go out to eat or order for takeout/delivery. You probably picked up your phone and did a search for restaurants near you. This is where
restaurants can benefit from the additional exposure that a directory listing provides.
A listing on your directory website helps restaurants come up in search results — during the
customer's buying journey when they are ready to make a decision about which restaurant to visit or order their food from.
You can target all different types of restaurants and food stores in your area including:
Italian Restaurants, Chinese Restaurants, Indian Restaurants, BBQ Restaurants, Greek Restaurants, Delis, Diners, Sushi Restaurants, Gourmet Food Shops, Ice Cream
Shops, Bagel Shops, Bakeries and more.
2. Home Improvement Services
Many home improvement service providers such as plumbers, roofers, and contractors, do not have physical storefronts. Therefore, they depend heavily on local advertising
like directory listings to boost their online exposure and generate leads. With a directory listing, they can establish an online presence, showcase photos of their recent work,
and highlight customer testimonials to win the trust of local residents and generate leads.
Remember that many home improvement services tend to be large-ticket items. Even small renovations can cost $10,000 or more. Therefore, businesses in this industry are
often willing to invest more in advertising to increase their chances of landing their next big job. Even one new customer added through a directory listing can generate
thousands of dollars in revenue or even mean a customer for life. Purchasing a listing on your local directory website is a relatively small expense and an affordable advertising
option that offers home improvement companies a high likelihood for a ROI (return on investment).
There are hundreds of businesses that fall within the home improvement category. Think beyond the obvious and target these other
businesses as well:
Painters, Home Security Companies, Landscapers, Electricians, Interior Designers, Septic Tank Cleaning, Window Replacement Companies, Carpet & Upholstery Cleaning,
Solar Panel Companies, Air Duct Cleaning Services, Architects, Chimney Cleaning, and Garage Door Repair.
3. Professional Services
Many professional services operate out of their home or small offices. Without "street traffic" or exposure, these businesses rely largely on word of mouth and
referrals to get
clients. Often times, traditional advertising like print or radio, proves to be too expensive and these businesses search for more affordable options. Professional
service
providers can be ideal clients for your business listing and coupon website because it provides them the targeted online visibility they need at a price they can afford.
It is worth noting that many professional services are often a single-person enterprise who are busy running the day-to-day operations of their business. Therefore they don't
have a lot of free time to manage their marketing efforts. A directory listing offers these businesses a "hands-off" approach to advertising. Once their listing is setup, it will
provide 24/7 exposure so they continue to run their business without a hitch. They can list their services, highlight their qualifications, build trust, and generate leads for a price
that is likely less than their hourly service charge. Often times, just one customer can cover the cost to advertise on your site. 
Examples of professional services you can target include:
Lawyers, Accountants, Tax Preparation Services, Business Consultants, Bookkeeping Services, IT Services, Language Translation Services, Debt Collectors, Public Relations
Agencies, Private Investigators, Mortgage Brokers, Life Coaches, Web Designers, Insurance Agents, Employment Agencies, and Financial Planners.
4. Automotive Services
Trust is one of the critical elements in the success and sustainability of any auto service business. You will want to have your automobile serviced by someone you can
instinctively trust and who can offer you peace of mind. A strongly visible online presence, with multiple directory listings, helps in building credibility and trust in the customer's mind.
Customers will often research multiple sources and browse local listings when looking for a local auto repair shop. The greater the number of listings a business has (and
equally important – the quality of customer reviews on their listings) – the more confidence it will convey to a new prospect who is looking for a dependable automobile service.
With a listing on your directory website, auto repair shops can feature all of the services they offer, photos to prove the quality of their work, coupons and service specials,
and customer testimonials to help them build consumer confidence.
Automobile service providers are also highly localized businesses, relying primarily on the local community for its customers. Imagine if something goes wrong with your car...
you are not going to travel very far to get it serviced or taken care of. You will search for the nearest mechanic or body shop in your area from your computer or smartphone. A
listing on your directory website can help them rank higher in local search results, driving both traffic and customers to their shop, so they can achieve the maximum mileage for
their marketing dollars.
Local automotive services include:
Mechanics, Body Shops, Tire and Wheel Repair, Oil Changes, Battery Replacement, Towing Companies, Automotive Locksmith Services and Detailing Services.
5. Healthcare Providers
Independent medical practitioners and various other healthcare service providers primarily serve local residents. This industry has mass appeal because everyone in every
market needs healthcare at some point inter lives. Therefore, it is vital for healthcare service providers to be present in as many places as possible to gain the attention of people
across different age groups and demographics. 
A business listing on your local directory website is a healthy component to local advertising.
Healthcare providers can effectively use their business listing to highlight the complete range of their specialties, practice areas, and services. They can feature new
procedures, equipment, and technologies that they are offering to deliver more value to the patients. In areas such as cosmetic surgery, beauty spa, and skin care, healthcare
professionals can utilize the photo gallery on their listing to present 'before and after pictures' of different procedures. Doctor profiles can also be effectively presented through
the photo gallery. Healthcare providers can also use their directory profile listing to share important patient forms that can be accessed prior to visits. 
With dozens of different healthcare providers in every market, there is a huge opportunity to sell listings to:
General Physicians, Dentists, Hematologists, Dermatologists, Plastic Surgeons, Physical Therapists, Veterinarians, Chiropractors, Acupuncturists, Urgent Care Centers,
Psychiatrists, Weight Loss Centers, Nutritionists, Medical Spas and more.
6. Retail Stores, Beauty Salons and Boutiques
In any local market, you can find a large number of local retailers, boutiques, and stores that want to connect digitally with their local customers. With more and more customers
starting their shopping experience online, the need for a strong online presence is important for even small "mom-and-pop" shops.
Online directory listings help drive both in-store purchases as well as increase website traffic (through link building) for online purchases. Retail businesses also tend to use
coupons and promotions quite often, which can be featured on their business listing. Retail competition is intense, and marketing is crucial for these businesses both for
branding and to drive sales.
In addition, beauty salons are great potential advertisers. Salons can use their listing to highlight their services, feature photos of their work, and offer coupons to new
customers.
There are thousands of local retail businesses who can benefit from a listing on your directory site. Some businesses to target include:
Clothing Stores, Jewelers, Hair Salons, Sporting Goods Stores, Pet Shops, Barbershops, Wine Shops, Stationary Stores, Pharmacies, Toy Shops and more.
7. Childcare & Education Services
Trust and reliability are the key elements when it comes to hiring childcare and education services. Parents are usually willing to pay a premium to ensure the best possible
quality standards and a caring environment for their child. It's important for these types of businesses to send the right message and build consumer confidence with their
branding and marketing efforts.
A local business listing can help increase brand visibility when parents are searching online for childcare and education services. Parents can view their business listing to learn
more about the programs they offer, the safety measures they have in place and see pictures of the facility. When a childcare service provider adds photos to a listing, it can help
parents feel comfortable that their child will be in a safe, clean, and friendly environment. At the same time, parents can read reviews about the business to learn more about the
quality of the staff.
Be sure to explore all of the different childcare and education services in your area that you can sell listings to:
Day Care Centers, Tutoring Facilities, Children's Fitness Studios, Dance Centers, Early Learning Programs, Child Care and Nanny Services, and Children's Party Places.
8. Outdoor Activities
While outdoor activities have always been popular, the recent pandemic ha
s led to more people seeking outdoor opportunities where social distancing is easier to apply.
Outdoor activities are usually very location-specific, so people are more likely to
search online for "things to do near me" or "upcoming events in my local area." A listing on your
local directory website can help these businesses show up in search results. 
Outdoor businesses can utilize their directory listi
ng to inform, invite and spread the word about their unique and creative activities they have to offer. Whenever they have a
special event that they are hosting or running, they can post it on your directory for the community to see. They can feature admission prices, post coupons and deals, and
share photos of the experience. Advertising on a local directory website is a great way for outdoor businesses to capitalize on the growing demand from local consumers
seeking a release from being indoors.
Some outdoor businesses to consider include:
Wineries, Farms, Petting Zoos, Breweries, Boat Tours, Amusement Parks, Mini Golf and Fishing Charters.
The Bottom Line
...



There are hundreds of businesses spanning across dozens of different industries that you can sell listings to. One of the key things you can highlight to all your prospective customers is that a business listing on your website is just ONE place where they can promote their products and

 

services. A directory listing is an inexpensive addition to their current marketing and can be used to build awareness, increase visibility, improve search results, showcase their

 

products and services and ultimately attract local customers.





If you're currently running a local directory website or looking to start one with Ideal Directories, use our suggestions and target the industries above to help you get on the fast

 

path to profitability.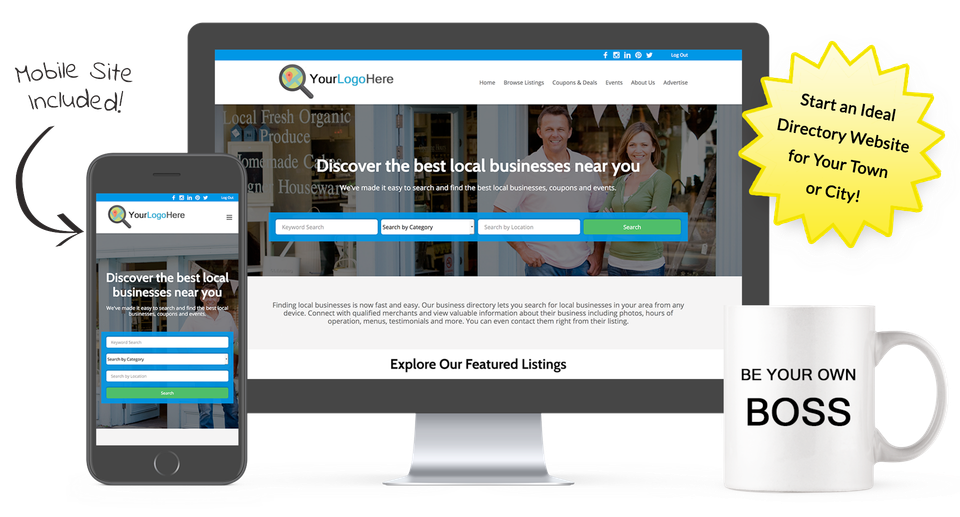 Start a Directory Website for Your Town or City with Ideal Directories!
Make money promoting local businesses, coupons & events in your area.