The Top 3 Reasons Directory Websites Fail
February 18, 2021
A local directory and coupon website is a time-tested business model that can be your pathway to creating a thriving online business with sustainable recurring income. Now more than ever, there is a growing demand for affordable local advertising, making directory websites a great opportunity in just about any market. However, even when the timing is right, the business model is proven and the market opportunity is huge, businesses can still fail if the execution is wrong.

If you are willing, you can learn from others' mistakes and establish a competitive advantage for your business. In this post, we'll focus on the top three reasons why many of your potential competitors are likely to fail – and how you can avoid those mistakes to create a successful online directory business.
1. Spreading Yourself Too Thin
Many new or ambitious entrepreneurs have a burning desire to grow fast, and as a result, they may aspire to build a large, multi-city or even nation-wide business directory from day one. As attractive as this approach may be, it often backfires for two reasons:
Larger directory sites are more difficult (and expensive) to market
Unless you have unlimited resources (AKA money), marketing a directory website that covers a larger geographical area is more much difficult and expensive than smaller hyper-local directory sites. Promoting your site to both consumers and potential advertisers becomes much more costly when you are serving a larger area. You'll eventually spread yourself and budget so thin that it won't be effective.

Concentrating your efforts on a smaller, local market can produce much better results. It's easier to target potential advertisers by focusing on an individual town or city. You'll also get more bang for your buck when it comes to marketing dollars by dedicating your entire budget to attracting local consumers in a specific area.
You won't differentiate yourself from the competition
The strongest appeal of an online business directory is that it can be highly localized. If you focus on too large of a market, you will lose that appeal. Instead of providing tremendous value to a specific, hyper-local set of customers, you will end up creating an undifferentiated business like thousands of other also-rans. Like the saying goes, "if you try to be everything to everyone, you'll be nothing to no one."

On the other hand, if you begin with a strong focus on a targeted local area, your directory website will quickly acquire a brand identity of its own. You will set yourself apart from the crowd by becoming the the "local source" and will have very little competition to fight off. Businesses and end-consumers will both achieve maximum value from your website, creating a win-win for all.

Purely from an SEO perspective, a highly localized business directory website is more likely to achieve top search rankings for local keywords. When the local intent is higher, Google algorithms can grant you top search rankings, which means more online visibility for your website and greater results.

While your long term vision and goals might be to expand your directory into nearby markets, it's always best to start off small until you gain significant traction. Even launching multiple local sites can be a more effective strategy than trying to build one large directory site.
2. Giving Up Too Soon
An online business directory business is not a get-rich-quick scheme. It will take time to build local awareness and recognition for your brand and earn the trust of potential advertisers. Patience is one of the greatest virtues of successful entrepreneurs. Perseverance and sacrifices in the short term are bound to deliver long term rewards for your local directory business if you give it a fair amount of time.

There's no other way to say this, but the business will fail if its founder or the team behind it decide to quit right when success is around the corner. Many entrepreneurs presume that because it is an online business, amazing results will happen overnight, but that's not reality. When you start with unrealistic expectations, it gets difficult to have patience and stay in the game.

The golden rules of long-term success for your local directory website are as follows:
Set realistic goals and a budget that you can afford

Move forward in small, meaningful steps

Continue to learn, improvise and refine your strategy

Be prepared for setbacks and learn from failure

Stay committed for at least one year
Many directory website owners will see little to no profit in their first few months. This is normal. However, those that stay committed and determined, will often find their profits growing exponentially year after year.

Like any business, success in your online directory business is not going to be linear. It will begin at a slow pace, there will minor bumps along the way, and once you build the initial trajectory, the growth ahead can be exponential.
3. Choosing the Wrong Software
It is easy to get attracted by the fancy sales pitch of an online directory software provider, but unless you know what you are getting, you could be setting yourself up for failure. Even the best intentions, execution, and strategy will not take you far if the foundation of your directory business – the software that powers it – is inefficient, inadequate, or incompatible to your needs.

You need to find the right balance of features, support, and pricing that enables your business to get up and running quickly without big expenses to overcome. Before you sign on the dotted line, consider the following checklist and see whether the technology partner you are considering for your business directory checks all the boxes:
Is the software quick and easy to set up?

Does it let you customize your website for a unique brand identity?

Is your website design fully responsive across all mobile devices?

Does it provide you SEO automation for maximum search visibility?

Is super reliable cloud hosting with an SSL certificate included for maximum security and SEO benefit?

Will you be able to set your own price plans and keep 100% of the sales revenues?

Do you get secure and reliable payment processing to bill your customers?

Does the software let you name product and service categories of your choice?

Do you get a user-friendly dashboard to add and edit listings and track the traffic and engagement levels for each listing?

Does the software offer you a "Claim Listing" feature to achieve more conversions?

Will each business listing on your site have a dedicated profile page that can include multimedia features?

Does the website enable merchants to post their coupons & deals that are easily shareable and redeemable online or offline?

Does the website have a provision to post local community events to add more value for businesses and local residents?

Can you add more pages and content to your website whenever you want to expand your directory?

Is the listing and payment processing fully automated so that you can generate recurring revenue without having to lift a finger?
The answer to all of these questions is "yes" with Ideal Directories. Ideal Directories is not a website theme or a site plug-in, or something you have to install on your own servers and setup hosting for. It's designed by experienced software developers specifically for building and running a business directory website business; not a hobby or side project, but an actual business. Make sure that what you choose fits your needs and goals.
Ideal Directories – The Easy-to-Use Software that Fits Your Needs
With access to the right knowledge, you can learn from the mistakes of others and make sure you don't make the same for yourself when starting a new business. You can do quite well launching and running a business directory website, especially if you don't try to cater to too large of a market, choose the wrong software, or don't give yourself enough time to succeed. Be fair to your ambitions, set the proper expectations, and set your target on success. Get started today with Ideal Directories software so you launch your own online business directory and coupon website for your town or city right away.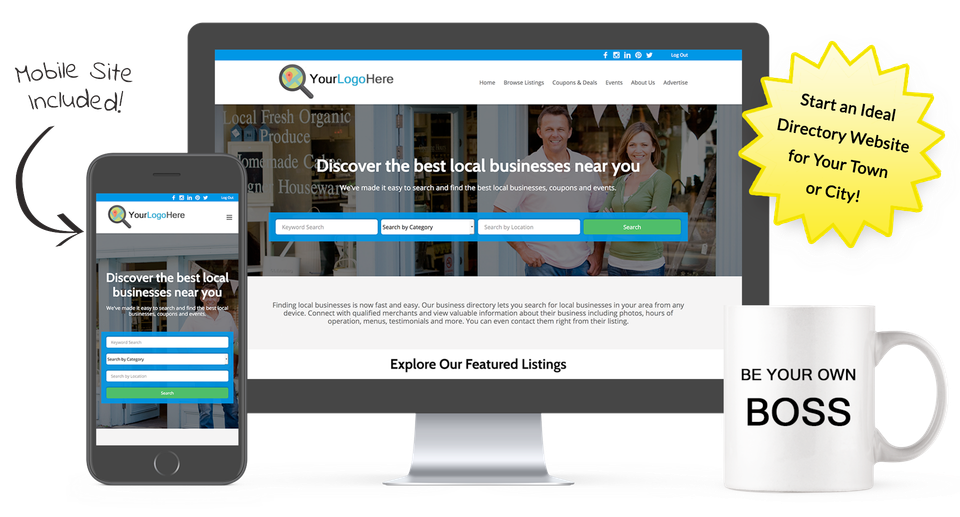 Start a Directory Website for Your Town or City with Ideal Directories!
Make money promoting local businesses, coupons & events in your area.