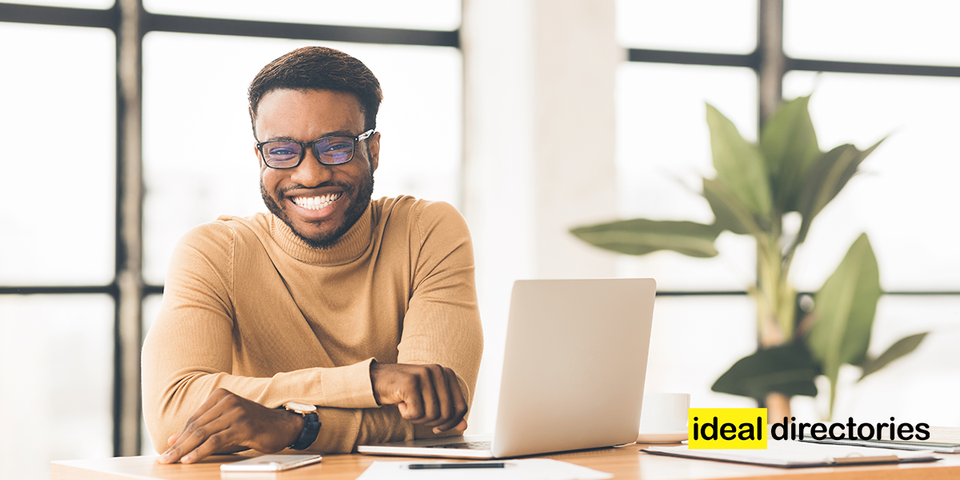 7 Tips for Anyone Looking to Start a Local Online Business Directory Website
Published on February 25, 2021. Updated on September 9, 2021
At Ideal Directories, we make starting a local business directory and coupon website as fast, easy and accessible as possible. Our turnkey platform was designed to let anyone launch their own online business, regardless of their previous experience or technical know-how. If you recently launched a directory website with Ideal Directories or are thinking about starting one, here are 7 tips to help guide you toward success.
1. Stop Putting it Off
Think about where you might be today if you started your own business 6 months, 12 months or 2 years ago. Even if you sold just a handful of listings each month, that could have added up to thousands of dollars in your pocket.

Dreaming of launching your own business is important, but dreams must turn into plans and plans must lead to action. The world's longest journeys always begin with the first step – and that's the most important step to take. Delaying your launch only delays your success. As scary as it might be, have the confidence that everything will fall into place once you take the plunge, and you'll be able to overcome any obstacles you face along the way.
Like many opportunities, the early bird wins the prize. Hesitation and procrastination can be an entrepreneur's worst enemies. Being the first in your market to launch a local business directory website will help prevent knockoffs and put you light years ahead of any competition. Don't be left saying "I wish I did it sooner" or "that was my idea." If you haven't already, get started now and launch your own business directory and coupon website today.
2. Keep it Local 
While it is good to think big, it is prudent to start small and keep growing along the way. Start building your directory website by focusing on a concentrated area – a town, neighborhood, portion of a city, or a specific region. The more localized your listings are, the most appealing it will be for the local consumers who want to buy products and services nearest to where they live. No one wants to travel far, for instance, to find a good restaurant, a retail store, a dentist, a daycare or other businesses and professional service providers for their everyday needs.
Local businesses are more interested in attracting local customers because it increases their likelihood of repeat business for a lifetime. Therefore, your focus on creating a hyper-local directory will yield faster results and get your cash flow moving fast. Once you have mastered one local area, you could think of setting up another business directory for another local area if you wish to expand your horizons. 
Another advantage of keeping your online business directory local is that it immediately separates you from the competition. Large national sites lack the charm and appeal of smaller, local directory sites.  It is also the most cost-effective strategy that allows you to concentrate your time as well as marketing dollars in a specific area rather than spreading your resources too thin.
Branding is important for any company - whether it's a physical business or online. Your brand helps build trust, engage customers and differentiates your company from the competition. At Ideal Directories, we'll provide you with a beautiful, turnkey, mobile-responsive directory website that is user-friendly and aesthetically appealing right out of the gates. It's up to you to make it your own by branding it with your own logo and custom domain.
Investing in a professional logo should be one of the first steps you take after launching your site. You can easily find affordable logo designers online on sites like 99Designs and Fiverr, and we even offer our own logo design service. Within a few days, you'll have a unique logo that properly represents your brand, looks professional, and is ready to be uploaded to your site. It's equally important to add your logo to any and all of the sales and marketing materials we provide including sales flyers, brochures and order forms.
When choosing a domain name for your directory website, be sure that it resembles your business name and that it's short and easy to remember. It's best to include keywords like "coupons", "deals" and of course your city name or area you serve. Opt for ".com" over other extensions and avoid hyphens and numbers. You can search for available domain names and purchase one here.
4. Add Free Listings
Adding free sample listings to your directory website is one the most important things you can do, yet it's often overlooked. A directory website with no listings is useless to anyone who visits your site. Adding free listings will provide your site with some much needed content, improve SEO, help generate traffic to your site and keep visitors coming back.
Free listings also play an important role in the sales process. Nobody wants to be the first or only business to pay for advertising on your site. Adding free listings will make local businesses think that other merchants are already paying you to be featured on your site. When they see their competitors advertising on your site, they will want to also. Sample listings also help potential advertisers visualize exactly what a listing looks like so they understand what they are getting for the money.
5. Use the Power of Social Media 
Social media is one of the most powerful marketing tools at your disposal. It provides you with a free opportunity to promote your business directory website to both local consumers as well as potential advertisers in your local area. Social networks such as Facebook, Twitter, Instagram, LinkedIn, Pinterest, Google My Business, and YouTube have tremendous mass appeal. You'll instantly gain access to millions of potential customers who are ready to connect, communicate, and share your website with others in their own network.
Start by creating a Facebook business page for your directory website. Add some photos, upload your logo and be sure to add a link back to your website. Post relevant and engaging content that local residents and businesses might be interested in. You can also use your Facebook page to highlight specific businesses, coupons and events that are featured on your site. "Like" and message other businesses in the area, inviting them to sign up for a listing on your site. You can even consider running promotions, offering discounts on your plans or boosting your exposure on Facebook with paid advertising options.
6. Make Sales a Priority
Don't get caught up in the minutiae of running your business and focus on what matters most – selling listings and making money. Make sales your priority over everything else. Focus on landing your first sale. The first sale is often the hardest, but it will become easier once you gain confidence and find your groove. Click here are some tips for landing your first sale
At Ideal Directories, we provide you with a wide range of sales and marketing materials to help you look your best, send the right message and assist you in your sales efforts. You'll have access to sample sales scripts, flyers, brochures, and more. Our team will help you understand the best types of businesses to target, what to say and how to close the sale.
Not great at sales? Hire a local sales rep to sell ads for you. Many sales reps will work on commission only so they only get paid if they close a sale.
7. Don't Sweat the Small Stuff
It's easy to get caught up on small changes to your site and trying to make it look "perfect." Focus on the features, functionality, and resources you have access to – without worrying about a wish-list of "nice to have" or complex features that might not be available to you right away.
Ideal Directories has everything you need to be successful right out of the box. While we are always improving our platform and investing in new features, there is nothing missing that will prevent you from being successful. We built a platform and business model that has been tested and proven by hundreds of successful entrepreneurs. It is designed to put you on the fast track towards success, as long as you follow the guidance, suggestions, and training we provide. 
If you're serious about running your own online business, Ideal Directories is here to help. Leverage our years of experience and start putting our tips and suggestions to work for you.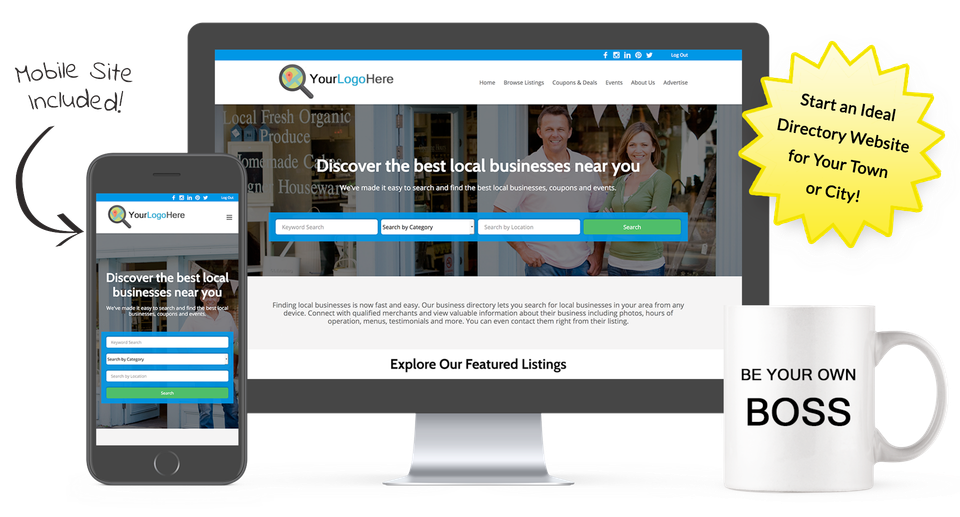 Start a Directory Website for Your Town or City with Ideal Directories!
Make money promoting local businesses, coupons & events in your area.