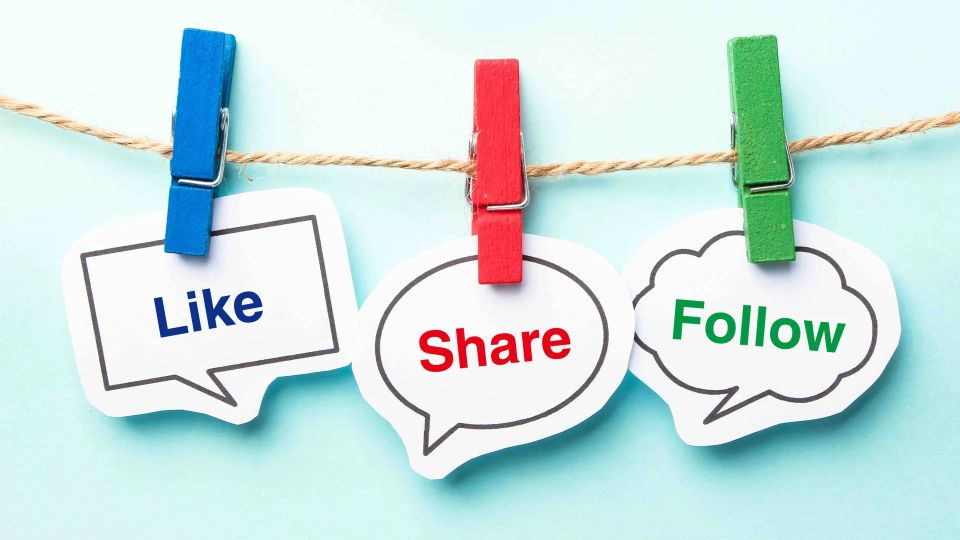 4 Ways to Encourage Site Visitors to Share Your Directory Website Using Social Media
Published on September 2, 2022
As with any business, there are certain aspects of running a directory website that you'll want to make a priority in order for your business to succeed. With a directory website, driving traffic to your site should be of high importance and an integral part of your marketing efforts. While you don't need a lot of traffic to begin selling listings, you'll want to build traffic to your site overtime so you can provide the long-term value of advertising on your website.

With the right approach, you can increase the number of people sharing your directory website and reap the benefits of more traffic and links leading to your website. A great place to start is to encourage your site visitors to help you spread the word about your directory website on social media. If they like and utilize your site, they will be very willing to share this invaluable resource with their network, friends, and family.

As a digital forum for word-of-mouth marketing, social media is one of the most effective ways to promote your directory website. Not only is it free, but with sites like Facebook, LinkedIn, and Instagram you have the ability to reach thousands of local residents and business owners. To grow your following, you'll want to maximize the power of social media and implement different methods into your marketing strategy to prompt site visitors to share and post about your directory website.

Here are four ways to encourage visitors to share your directory website:
1. Invite your personal network to "Like" and "Follow" your business's social media pages.
One of the best ways to promote sharing is to invite your personal network such as friends, family, current advertisers, local business owners, and residents in your community to "Like" or "Follow" the business social media pages that link back to your directory website. Using a combination of the following tips can allow you to spread the word about your directory and solicit the help you need to grow your following:
Send invites to your social media contacts - Platforms such as Facebook and LinkedIn allow you to view all the contacts in your own network and select who you want to invite to Like or Follow your page. Once sent, they'll get a notification with the option to accept the invitation. This is a great way to reach a large number of your contacts in an easy and quick manner. Additionally, with Facebook you can also invite people who react (engage) to your page's posts. 
Direct messaging on social media - You can send messages directly to individuals on your contact list. Create a template that briefly highlights your directory website and include the request for them to follow and share your social media pages. Make sure to also have the URL to your directory website and other social media business profiles in the message. 
Create an email campaign - Another way to maximize your reach and your social media followers is to create an email campaign specifically asking your database of contacts to Follow and Like your business pages, as well as encourage them to share your page on their own. With some simple messaging, links, and social media icons, you can make it easy for your database contacts to become advocates and part of your social media followers.
Post about it on your pages - Create a post encouraging people to Follow or Like your business's social media pages and ask your current followers to share it to their personal pages. 
Face-to-face  - The next time you're at a family gathering or at a networking event, ask those around you to Follow or Like your pages. There's never any harm in asking! Plus, people who know you will be happy to support you and follow your request.
Be consistent with your efforts inviting your personal network to follow or like your business's social media pages. Just because you asked once doesn't mean you shouldn't ask again. Chances are they might not have received or seen the message or invite you sent. 
2. Every time you add a new business, coupon or event to your directory, be sure to share it with the community on social media.
Whether you're adding a new business listing, coupon or event to your site, it's always best practice to share it on social media as well. One way to help encourage other people to share your social media post on their own page is by tagging the person or business being featured in the post. In order for a tag to appear on social media, the business being tagged needs to have an active account. By tagging your advertisers and other local businesses in your posts, you let them know you're actively promoting their brand and products/services and they'll be more likely to share that post with their own network because of the added exposure. It's a win-win for both you and the advertiser.

Sometimes, businesses have unique handles (usernames) that can make it difficult to find them on social media so you can tag them in your post. If you can't find them in a search on that particular outlet, don't give up. Head over to their business website and see if they have their social media pages linked. Once you're directed to their page, you will be able to see how they have their business name or handle spelled so you can properly tag them in the post you're working on. When you tag a business or person, they receive a notification that lets them know you "mentioned" them in your post. Not only will they be excited by the opportunity to see their business featured on your social media page but they will be proud to share it on their own page. So, the extra effort put into tagging them can really pay off!
3. Join Facebook and LinkedIn groups for your local community.
Facebook and LinkedIn groups are a great way to get in front of a large audience, introduce yourself and share your website. Join groups that closely align with your target audience and post engaging content, or jump in to answer questions and comments. When searching for groups to join, think of groups that will have local business owners as well as ones that have local residents. In your search, look for groups that include the name of the town or city of your directory website. This will ensure that you're connecting with consumers or businesses in the community who would be most likely to use and benefit from your directory website.

Within the groups, you can be a bystander or be part of the conversation. If someone in the group is looking for a recommendation, chime in! Include the link to your directory website so they can view other trustworthy businesses within that industry or field. By actively commenting on behalf of your business, this will humanize your brand, make it easier for potential customers to connect with you and build interest around your directory.
4. Be sure to connect the social media icons on your directory website and email signatures to link to your profile pages.
To make it easy for site visitors to find your business's social media pages, add the icons to your directory website and email signature. Most business pages have their social media icons at the top or bottom (navigation or footer) of the website in a section that is accessible from all the inner pages. Following suit, when you start a directory website with Ideal Directories, you can easily add social media icons on your website which will be automatically positioned across the top header, where they are most prominent, and within the footer. To view examples of directory sites that have their social media icons prominently placed on their homepage, click here.

Whether you're sending an email from your personal address or through a mailing platform such as Mailchimp or Constant Contact, make sure to have the social media icons present. The more ways that people can connect with you and learn about your business, the better. Tip: Also, include the social media icons on your business cards and promotional marketing materials. Just another way to encourage people to find and follow your directory website's social media pages. 
Generate Interest and Drive Traffic to Your Directory Website
To encourage site visitors to share your directory website you have to make it easy for them otherwise, they may not do it. Using the different methods above you can leverage your site visitors and social media followers to help you promote and drive traffic to your directory website. When you use social media the right way, it can make a huge impact on your bottom line.

To expand your reach you also have to grow your following. Try to set quarterly goals and identify how many social media followers and new contacts you want in your database. Remember to post share-worthy, interesting content that will appeal to your site visitors. As long as you post consistently, your brand and the brands of the advertisers you promote will stay fresh in the mind of your target audiences and keep them coming back for more.

Interested in starting a directory website for your town or city? With Ideal Directories, there's no prior technical experience required and you could have your website up and running in as little as 24 hours. Get started today!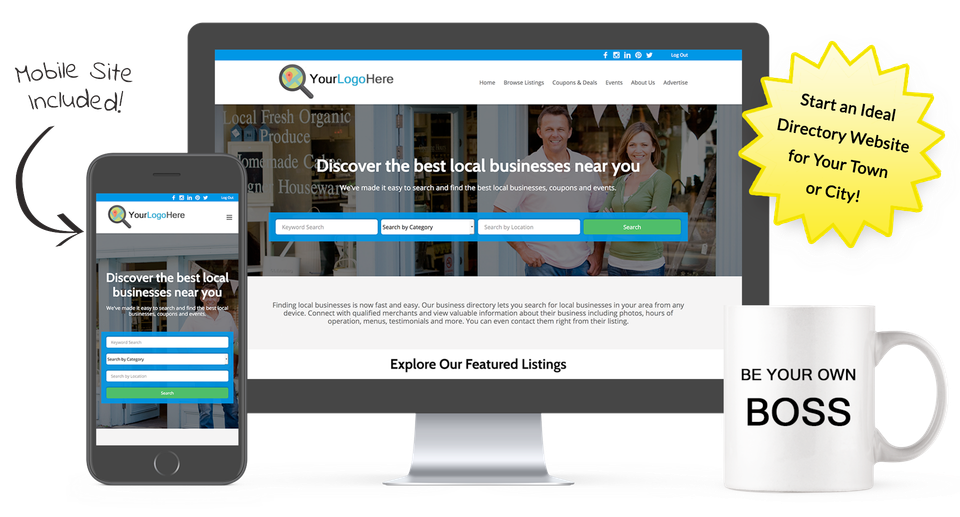 Start a Directory Website for Your Town or City with Ideal Directories!
Make money promoting local businesses, coupons & events in your area.